Top Stories
Details

Written by

NJ NEWS Jersey Reporter
UNION, NJ--Pietro Colletti 52, of Union, NJ passed away on Wednesday February 12th, 2020 at Jersey Shore University Medical Center surrounded by his loving family. Pietro was born in Elizabeth, NJ to Rosaria (née Smeraglia) and Joseph Colletti. He spent most of his life in Clark where he graduated from Arthur L. Johnson High School in 1985. While there he excelled in sports, receiving the nickname "Buddha" for his unstoppable athletic career. He went on to attend Kean University where he continued his wrestling career. Pietro was employed by J.J White Inc. as a project manager for the last 15 years. He spent 27 years with the Laborers Local #394. Pietro was a kind-hearted warm person who cared deeply about his family. He enjoyed golfing, John Wayne movies, was an avid reader, but most of all he enjoyed spending time with his beloved family. Even though he spent most of his life in the U.S., his heart always belonged to Sicily. His happiest times were spent overlooking the Mediterranean Sea from a porch, sipping espresso while biting on a cigar. He was an overly generous and selfless person who was known on many occasions to literally give the shirt off his back or the watch off his wrist. Whether it be advice or a helping hand, Pietro was always there for those he loved. Although his life was cut short, he left us with a lifetime of memories and will be greatly missed. A devoted and caring Father, Son, Fiancé, Brother, Uncle and Godfather. Pietro was survived by his loving children Joseph, Sara and Issabella; Beloved mother Rosaria, his Fiancé Denise LaMorgese and her children Jordana and Kaya; Brothers Giacomo and Domenico and their wives Margaret Ann and Leila; His 6 treasured nieces and nephews and 2 great-nephews. Also many loving Aunts, Uncles, Cousins and friends. Pietro was pre-deceased by his father Joseph Colletti. In lieu of flowers please make a donation in Pietro's memory to the American Heart Association 300 5th Ave, Suite 6 Waltham, MA 02451 www.heart.org or a heart charity of your choice. Relatives and friends are kindly invited to attend a visitation at Corsentino Home For Funerals, 620 Second Ave., Corner of John St, Elizabeth, NJ., on Sunday February 16th from 4-8pm. The funeral will start at Corsentino Home for Funerals on Monday February 17th at 9:15am followed by a funeral mass at St. Anthony's R.C Church, Elizabeth beginning at 10:30am. 
Details

Written by

NJ NEWS Jersey Reporter
MILLBURN, NJ--Patrick James O'Gorman, 92, formerly of Palm City, FL, passed away peacefully at his home at YourLife of Palm Beach Gardens, on February 2, 2020.
Pat was born in Newark, New Jersey to Francis and Ellen (Coghlan) O'Gorman, recent immigrants from Ireland.  After his 1944 graduation from St. Benedict's Prep in Newark, Pat joined the Navy and served in Washington, DC during WWII.  Quick with a smile, a joke, a story, or a hearty handshake, he was a natural salesman and tried his hand at several businesses.  A lover of music, he opened a store, Variety Records, in Millburn, NJ in the early 1960s, but spent most of his career in machine tool sales at Stephenson Machinery Co. in Kenilworth, eventually acquiring the business and then retiring in 1993 to Palm City, Florida.
Pat was blessed with excellent health most of his life, and along with family time, enjoyed baking, gardening, bowling, and plenty of golf.  He had bragging rights to two holes in one, the last at the age of 85. He volunteered faithfully in activities and associations to help others, including a long term commitment to the Knights of Columbus, serving as Grand Knight at St. Rose of Lima Church in Short Hills, NJ and as a Eucharistic Minister at Holy Redeemer Church in Palm City, FL. 
Pat is survived by his wife of 65 years, JoAnne (Ryan), to whom he was devoted, and by their children: Kevin O'Gorman and his wife Sharon of San Diego, CA,  Kerry Pearson and her husband Mark of Bedford, MA, and Kathleen Olsen and her husband Ken of Jupiter, FL, as well as seven grandchildren – Matthew, Chris and his wife Mariah, P.J., Sean and his wife Katie, Laura, Kira, and Ryan.  He was predeceased by his son Christopher, as well as his three sisters, Betty, Peggy and Nora.  He is also survived by his brother-in-law Richard Ryan and his wife Nan, and many nieces and nephews.
Visitation will be held 4-8 PM on Thursday, February 13 at Forest Hills Funeral Home, 2001 SW Murphy Road, Palm City, FL. The funeral service will be on Friday, February 14 at 10 AM at Holy Redeemer Catholic Church, 1454 SW Mapp Rd, Palm City, FL.
In lieu of flowers, the family requests donations in Patrick's memory to The Alzheimer's Association at alz.org, or the American Cancer Society at cancer.org.
The Alzheimer's Association at www.alz.org, or the American Cancer Society at www.cancer.org.
Details

Written by

NJ NEWS Jersey Reporter
METUCHEN, N.J.--Family owned and privately operated, Bill Leary has served Middlesex County and beyond for 30 years. Certainly the go-to for heating and central air conditioning systems, furnaces, and water heaters, the company also sells related equipment, including air cleaners, humidifiers, attic fans, ultraviolet germicidal lights, and thermostats, among other necessities.
"Everyone is interested in learning new ways of saving energy and money when temperatures drop," said Leary, citing nine tips to save on energy costs this season. But he added that high efficiency furnaces and boilers are effective at keeping consumers warm on a day-to-day basis, while cutting down on energy costs. 
Here are Leary's simple suggestions:
-Always use the sun's heat by opening curtains or blinds on south-facing windows during winter days.
-Bundle up with warm clothing like sweaters and heavy socks. Keep blankets handy where you sit, and place area rugs on the floor as
- Use ceiling fans to your advantage. They give you a lot of control over ventilation and can be used strategically for better airflow. For instance, counter-clockwise will push hot air up in the summer and clockwise will trap heat inside during cooler months. (Turn your ceiling fan on a low setting to gently push hot air back down.)
-By adjusting your thermostat at night, you can save about 10 percent per year on your heating bills, according to the U.S. Department of Energy. Simply turn thermostat down 10 to 15 degrees for eight hours. Consider investing in flannel sheets and/or a warm comforter for your bed.
-Heat only the rooms you use. Do not heat rooms that you seldom use. Seal off the vents in those rooms to be more energy efficient and direct the flow of air to the rooms you use most. Energy bills run an average of $183 per month. But by using a space heater in the rooms where needed and setting the thermostat to 62 degrees, you can save approximately $200 each year.
-Be sure to keep furnaces unblocked. Keeping furnaces and vents properly maintained will reduce energy consumption as well. Check your furnace filter monthly; replace it when it gets dirty.
-And since inside air can become very dry, it's important to add moisture with a humidifier. Moist air holds heat better; a humidifier helps you feel comfortable when the thermostat is set at lower temperatures. Another great tip is to increase humidity with house plants.
-Invest in inexpensive insulation. Cover up all areas where heat might escape. Foam weather stripping for doors and windows is inexpensive and easy to apply.
-As for exhaust fans, use them only when necessary since they pull hot air that rises to the ceiling. Remember to shut them off when done.
Legacy brands that Bill Leary installs, services, repairs, and performs maintenance on include: Goodman, York, Bryant, Carrier, Trane, Janitrol, Crown, Utica, Williamson, Weil McLain, Navien, Rheem, Ruud, Whirlpool, Bradford White and Rheem. 
As a local community driven business, the company gives back in a myriad of ways, supporting local and national organizations/groups, or giving funds to such groups.
Aside from being fully bonded, licensed, and insured, Bill Leary is certified by the State of New Jersey Department of Building and Construction Department to work on its most coveted projects, and certified by the New Jersey Economic Development Authority to do work in public schools.
Recently, the company was selected by the state to perform work on jobs at universities, public schools, municipal buildings, and police stations, among other sites.
Bill Leary offers free quotes on preventive maintenance contracts—never charging for 24-hour emergency service: 732-494-9200
Details

Written by

NJ NEWS Jersey Reporter
EAST BRUNSWICK NJ--QR Yellow Pages, when it goes live in early 2020, is sure to disrupt small business advertising in each town it hits.
Expected to benefit consumers and catch on quickly, the new patent pending invention/product represents "the wave of the future as the next generation of phone books" for all consumers, said inventor and entrepreneur, David-Douglas Brown, owner of Yellow Pages Online.  
And for the local business owner, "It's a no-brainer," Brown said.
"This is a fun, new, exciting and useful way for the next generation to have their own phone book."
And short of a consumer having to do the "scan part" there's always an exclusive local business & phone number which will either be that particular entities phone number or the one provided for tracking (by category to make user results instantaneous).
While it's being launched in East Brunswick, Brown hopes to see it expand quickly with as many as 20 individual towns by mid-2020, and then double that, by the year after. (Each town will have its own directory.) There will be some 60 plus categories from accountants, restaurants, landscapers, plumbers, restaurants, lawyers, painters, and many others – you name it.  
Brown estimates that all he needs just 1 out of 10 consumers to perform scans and this could be the biggest thing to happen to phone books since 1877, Alexander Graham Bell. Yet, the return on investment is quite high for local businesses – no matter what their average ticket size is.
Still the question Brown asks himself is: "Why wouldn't someone just go to Google?" and how can my team evolve the product to benefit the local community and co-exist with typical Google search?
What's happening with Google, he says, is that it's obviously going to be there, but inside your phone, QR works a little different than search, while offering consumers convenience, among other benefits. "Once you do the scan, text will come into your phone and stay there," Brown said. "We will provide all the data for a particular category, which will include all relevant listings.
As far as search, there are slews of businesses spending money on ads and key words "so the little guy is lower down." But the product affords "the little guy the opportunity to be right on top."
With QR Yellow Pages, the link to a local business will always come up on the top, he says, noting that it builds on the concept of hyper-local, as does a news site for a single town, for instance.
Remember, each pool of advertisers for a category "are relatively few," per town, he said, again citing his projections for how many towns will go live in coming days.   
"As long as [there is] support we can publish in that town."
Eight years ago David-Douglas Brown, was chatting with Apple co-founder Steve Wosniak at the third annual Rutgers University Entrepreneurship Day. Wozniak was in attendance that year advising local entrepreneurs.
One was David-Douglas Brown, who was at the event showing off QR Yellow Pages. Since then his product has been marinating, amid the growth in technology, of course.
Brown recalled Wosniak's words: "If people are contradicting you and saying 'No this is not how it's done' you have to move in the direction that you know feels good," he said. "If it's really different and disruptive there's no formula written for what's good and what's bad."
Fast forward eight years … and QR Yellow Pages is in the works, launching in East Brunswick soon.
Brown said he "came up with the idea" for QR Yellow Pages years ago and pitched it at the show at Rutgers where he met the Apple founder.
"However the technology wasn't there yet," he said of QR readers, overall. "It was too tedious and more work than it was worth."
Now QR readers are embedded in all newer phones, and if yours doesn't have one, apps are widely available and take only seconds to gear up. "Just go to photo and point at the QR Code". Very simple mentions Brown.
Fortunately, Brown has always had support from his mother, a retired teacher who was at the event that year to support her son.
"In the past we would bundle up towns to facilitate the delivery side, but we decided that every town will be exclusive," said Brown of the product.
So far, in East Brunswick, the response has been robust.
"Once we sell out we'll be pretty much ready to rock this thing out," added Brown. "We are the new technology system for advertising in town!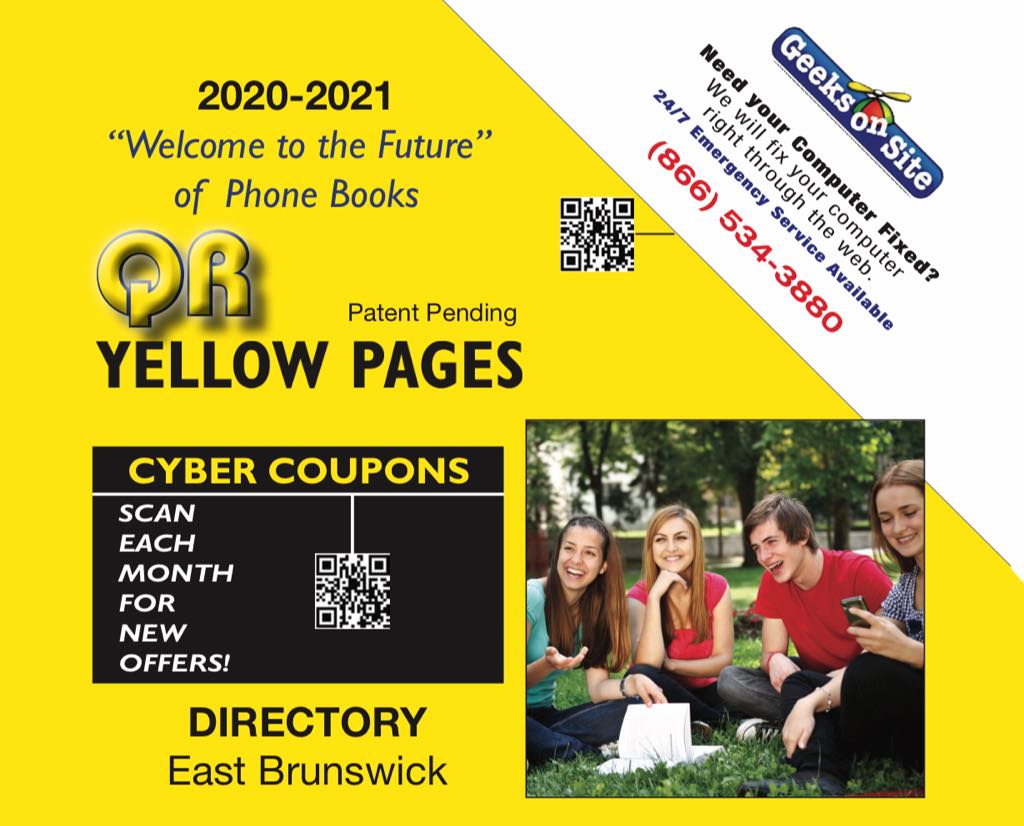 In East Brunswick, the first QR Yellow Pages directory will go out to all local businesses and households by February of next year.
Consumers will be able to scan Cyber-Coupons directly off of the directory's front cover as well – these Cyber-Coupons are of value to anyone needing goods or services locally, among those living in nearby towns, and others in need of a good deal.
My product "will be delivered to all the homes," said Brown. "It's a new invention – this is the future of yellow pages."
Moreover, he says the company will also be a big player in the coupon arena.
The nice thing about scanning the coupons is that, after a scan, the embedded offers will be instantly usable, said the inventor.
And every month there will be valuable new offers available via a simple re-scan. 
Traditional phone books, which are about obsolete and wasteful, have not been so hard to replace, given technology and a little bit of ingenuity, added Brown.
If your a business owner and want to make history with other local advertisers give us a call 732-646-1305 (Limited Space Available)
We will send a Technology Expert /Sales Representative to sit down with you and explain all the advantages that go along with QR Yellow Pages!