Top Stories
Details

Written by

NJ NEWS Jersey Reporter
ABERDEEN, NJ--After college, Anthony C. Guglieri became a retail stockbroker on Wall Street.  While interacting with his clients, Anthony was curious about the wealth his clients amassed through real estate. Anthony decided to take real estate classes at night in Staten Island to get his real estate license and become a broker.
At first, Anthony's objective was to buy and sell properties just for himself. But then he liked it so much, Anthony bought out the company he was working for which was
Prime Time Real Estate
in Staten Island.
The company was owned by a NYC firefighter and Anthony felt a connection to the company because his own father was a NYC firefighter! The business grew! Today Prime Time Real Estate has two locations, the original one in Staten Island, New York and since 2003 in Aberdeen, New Jersey.
Mr. Guglieri met builders who were looking for land to build houses. Anthony was able to help contractors find property, construct and sell the homes. Once again, Anthony being curious about construction, wanted to learn all he could!  The builders took Anthony under their wings and eventually he was able to get his general contracting license. Anthony's quest, ambition and determination led him to learn the real estate and construction business from the ground up: how to build a home, how it's constructed, buying and selling, finance end, the legal end, the title end, inspections, closings. 
In an exclusive interview with www.NJnewsjersey.com  reporters Anthony mentions "I wanted to learn every aspect so that when I deal with customers, I can guide them the whole way through!" 
The fact that Anthony is a licensed general contractor overseeing projects from start to completion allows his customers to understand that if there a material defect in a home, for instance, he knows how it can be corrected.
All this has enhanced and added into Anthony's wealth of knowledge and experience in the world of Real Estate!
Putting it all together,
Prime Time Real Estate
prides itself as a full service real estate company, guiding the client through each and every side when building homes, buying and selling homes, marketing, financing, legalities and titles and more. A full-on comprehensive real estate service with a 3% commission.
Anthony Guglieri's Prime Time Real Estate's unique approach and worthiness is due to Anthony's and his team's strong commitment to guiding clients past the superficial look of a home or commercial property, checking every feature of the structure, identifying and addressing any issues, problem solving, all the while listing any property for 3% commission! '
Prime Time Real Estate Inc
. is a Full Service Broker and Member of Multiple Listing Services in both New York and New Jersey. Anthony's strong background in finance has allowed him to offer his clients the ability to save money without sacrificing any service. There is no situation he cannot handle! Anthony enthusiastically passes on his knowledge and experience onto his clients.
When a client is looking for a home, Anthony will look past the "beauty" of the home and will check every detail of a structure including electric panels, beams, utilities, water issues, load bearing walls, etc. as well as the home's history and comps. When a client is selling a home, Anthony stresses there is no reason to overpay to sell. Why pay someone 5% or 6% to list your home on MLS? Most homes are not even sold by the listing agent! 
Prime Time Real Estate
, in business since 1999, deals in residential and commercial real estate, land purchases, new and existing construction and renovations anywhere in New Jersey and New York State. It doesn't matter if you are buying or selling a home for $250,000 or a million dollars! Every client is deeply valued, and supported every step of the way. 
Anthony Guglieri is all about family and community and sharing his knowledge and expertise in navigating the world of real estate without clients having to sacrifice any services.
PRO: Public Relations Optimization 
SPONSORED...Reported Story by Leah Brown Klein
News Reporter for www.NJnewsjersey.com 
News Reporter for www.NYnewsyork.com 
Details

Written by

NJ NEWS Jersey Reporter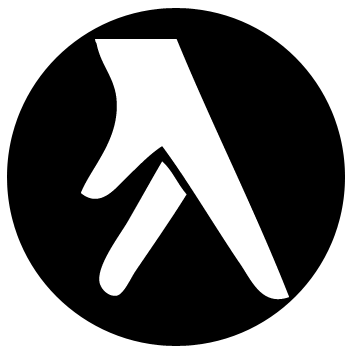 WESTFIELD, NJ—Since 1965 Westfield Pest Control has taken great pride specializing in commercial industrial, and institutional pest management in the tri-state area. Our objective is to create a partnership rather than just being another vendor. We collaborate with you to create an environmentally conscious pest management strategy designed to specifically for your home or facility. We are here to keep your family safe from harmful pests. Pest control for homes, condos and apartments. Westfield Pest Control is known for its residential pest expertise: from removal to prevention, we take your bug and rodent issues seriously. Our technicians are trained to apply products responsibly and accurately!  (See our list below)
BATS
BEDBUGS
BEES
BEETLES
CARPENTER ANTS
CENTIPEDES
CLOVER MITES
CRICKETS
DEER CONTROL
EARWIGS
FLEAS
MICE
MOTHS
PIGEONS
RACCOONS
RATS
ROACHES
SILVERFISH
SKUNKS
SPIDERS
SQUIRRELS
TERMITES
TICKS
WASPS
WATER BUGS
and other and annoying or harmful pests!
Details

Written by

NJ NEWS Jersey Reporter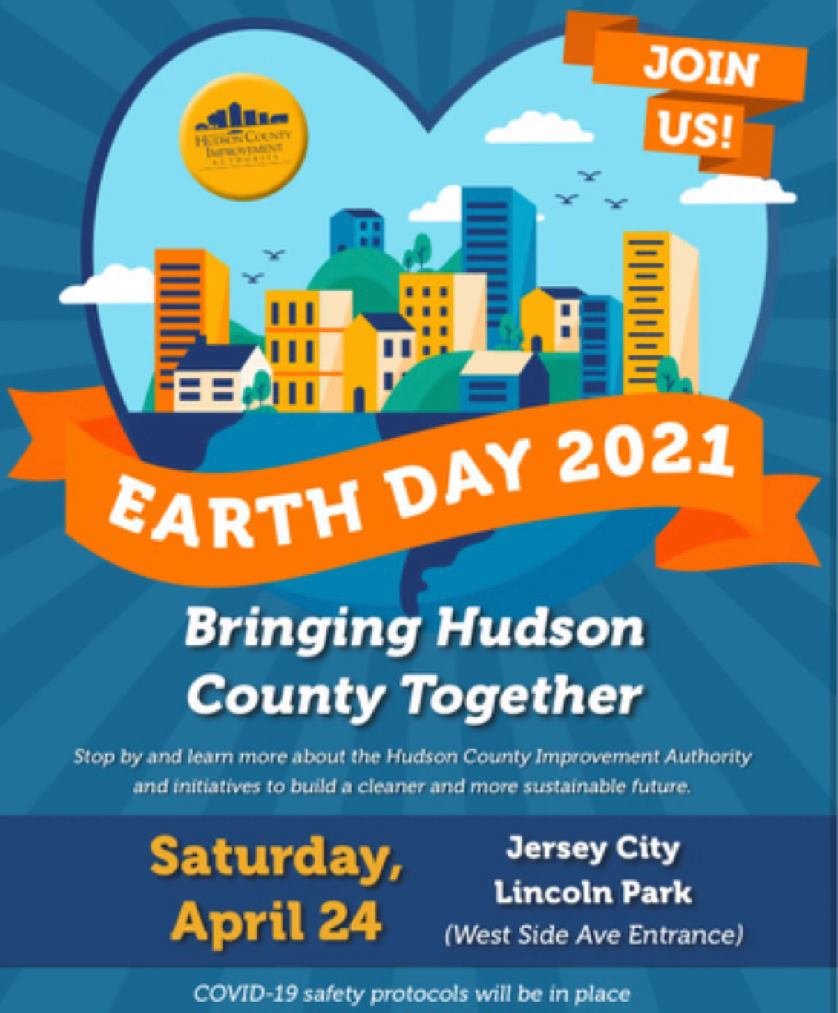 Earth Day Mini Fair 2021
Bringing Hudson County Together
Saturday April 24th
11:00am – 3:00pm
At Jersey City Lincoln Park
West Side Avenue Entrance
JERSEY CITY , NJ --Hudson County Improvement Authority otherwise known as HCIA is having its Earth Day Mini Fair this weekend, April 24th. Stop by to learn more about HCIA and their goals and projects to build a cleaner and more sustainable future for Hudson County residents!
HCIA is hopeful the communities of Hudson County will join together on Earth Day and beyond to promote awareness, education and engagement in the many services and projects Hudson County has to offer its residents. Norman Guerra, who has been the County Executive Director for more than sixteen years, reminds us about the planning and energy division, solar projects, and the building of Hudson County's first public golf course, and more exciting projects on the way! The HCIA also has been participating in the Task Force for Vaccinations.
Amanda Nesheiwat, Deputy Director of Sustainability & Community Outreach at HCIA based in Jersey City, mentioned in an interview with NJ NEWS Jersey.com, "Earth Day is encouraging youth to get involved in their community and understanding the importance of Earth Day but in their own way! Earth Day has always been an important day for the HCIA because it's main mission is to spread awareness about how to protect our planet and be a resource for communities working on achieving their environmental goals."
During the Earth Day Mini Fair Event on Saturday, a wealth of information and activities will be offered to help community members learn more about recycling and composting, shredding and hazardous waste events, and many community programs to assist in making a difference environmentally in our homes as well as out in the community. HCIA's Earth Day event will also provide information and resources regarding county health services and cultural affairs. Ms. Nesheiwat reminds us, "This year's Earth Day theme recognizes the importance of working together, whether it's fighting Covid-19 or fighting climate change! We can solve issues when we work together!"
Normally, the HCIA has always sponsored an Earth Day Fair and 5k Road Race in Liberty State Park but last year the fair had to be cancelled due to Covid-19. Instead for this year's Earth Day, it will be a Mini Fair at the Jersey City Lincoln Park. The HCIA is still looking forward to planning a 5k road race to be held in the fall so stay tuned! The HCIA is always available to answer questions about "going green" from municipalities, residents, and businesses!
Again, join us Saturday April 24th for a successful Earth Day celebration!
Check out the HCIA website and make sure to enjoy a beautiful day outside at Jersey City Lincoln Park on Earth Day!!!!
phone 201-324-6222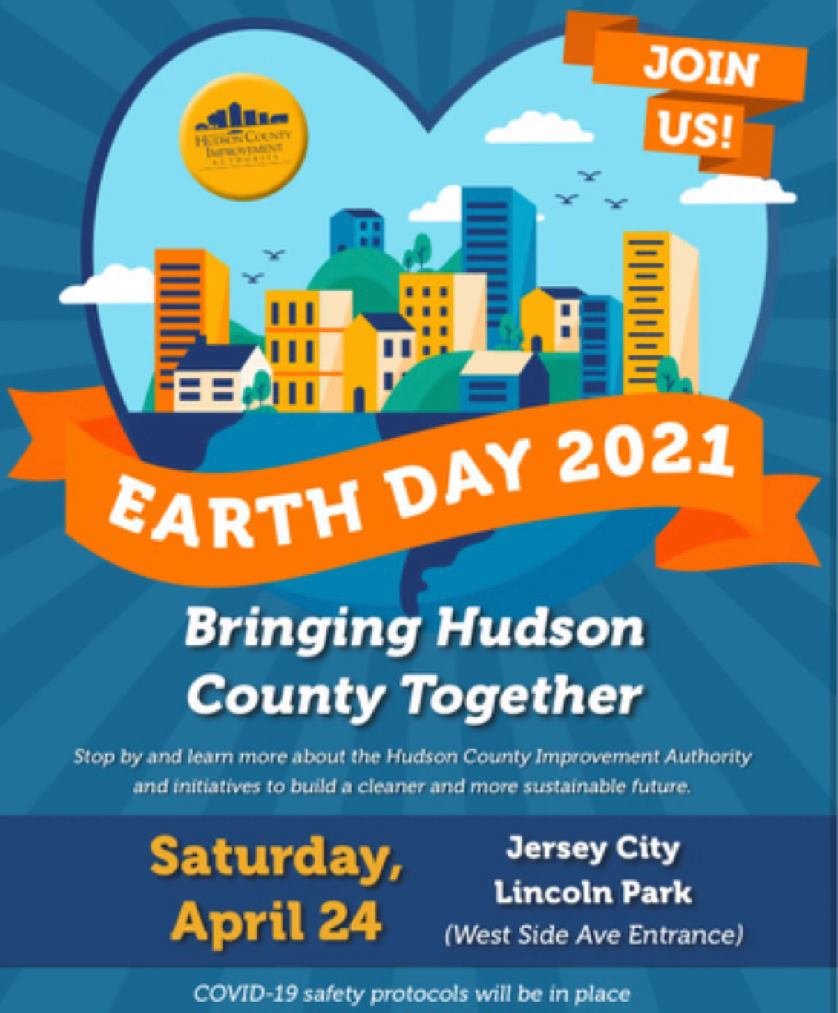 Details

Written by

NJ NEWS Jersey Reporter
EAST BRUNSWICK NJ--In the middle of the pandemic, Elizabeth Collazos de Diaz came upon the idea to open her own business, her very own flower shop! Mrs. Elizabeth Collazos de Diaz always loved Flowers, the Colors! the Smells! and has always enjoyed flower arranging! Elizabeth purchased Always and Forever Flowers LLC, originally owned by her friend Johannah Tamaro, and previously located in Old Bridge New Jersey. Mrs. Elizabeth Collazos de Diaz chose to relocate the business to the perfect East Brunswick location, 592 State Route 18 (next to Sheldon Motors) because as she puts it in her own words, "I love the city! I love the people! Very friendly! And everything is so nice here!" Elizabeth could not be more excited, "I am new in town and I am waiting for your business!" Always and Forever Flowers LLC will be open six days a week Monday through Saturday and they will deliver mornings and afternoons as well. Always and Forever Flowers LLC is conveniently located right next to Sheldon Motors on the north side of Route 18, easy to find and to park. The flower shop will prepare arrangements for any occasions such as weddings, funerals, birthdays, graduations, Bar Mitzvahs, Sweet Sixteens, Quinceaneras, and or flowers for "no reason at all "! You certainly don't need a reason to come by the shop and pick out an arrangement or a simple bouquet with the help of Elizabeth! Live plants will also be offered at the shop! In addition, patrons can also simply order from the website and even speak with Elizabeth on the phone or by email for assistance. This is Elizabeth's "dream come true" business and she is giving it her 100%!!! The Grand Opening will be this Saturday, April 17th  and Mrs. Collazos de Diaz invites everyone to come by! The Mayor of East Brunswick, Mr. Brad Cohen, will be there for the ribbon cutting ceremony!!! Remember, Saturday April 17th at 4:00 pm for the Grand Opening and Ribbon Cutting!!! Please welcome and join Mrs. Elizabeth Collazos de Diaz as she celebrates her new business venture!
Reminder to please wear masks and social distancing will be in effect.
 Thank you !
www.alwaysandforeverflowers.com
ALWAYS AND FOREVER FLOWERS LLC
592 ROUTE 18 EAST BRUNSWCK, NJ 08816
 Email... This email address is being protected from spambots. You need JavaScript enabled to view it.