Top Stories
Details

Written by

NJ NEWS Jersey Reporter
METUCHEN, N.J.--Family owned and privately operated, Bill Leary has served Middlesex County and beyond for 30 years. Certainly the go-to for heating and central air conditioning systems, furnaces, and water heaters, the company also sells related equipment, including air cleaners, humidifiers, attic fans, ultraviolet germicidal lights, and thermostats, among other necessities.
"Everyone is interested in learning new ways of saving energy and money when temperatures drop," said Leary, citing nine tips to save on energy costs this season. But he added that high efficiency furnaces and boilers are effective at keeping consumers warm on a day-to-day basis, while cutting down on energy costs. 
Here are Leary's simple suggestions:
-Always use the sun's heat by opening curtains or blinds on south-facing windows during winter days.
-Bundle up with warm clothing like sweaters and heavy socks. Keep blankets handy where you sit, and place area rugs on the floor as
- Use ceiling fans to your advantage. They give you a lot of control over ventilation and can be used strategically for better airflow. For instance, counter-clockwise will push hot air up in the summer and clockwise will trap heat inside during cooler months. (Turn your ceiling fan on a low setting to gently push hot air back down.)
-By adjusting your thermostat at night, you can save about 10 percent per year on your heating bills, according to the U.S. Department of Energy. Simply turn thermostat down 10 to 15 degrees for eight hours. Consider investing in flannel sheets and/or a warm comforter for your bed.
-Heat only the rooms you use. Do not heat rooms that you seldom use. Seal off the vents in those rooms to be more energy efficient and direct the flow of air to the rooms you use most. Energy bills run an average of $183 per month. But by using a space heater in the rooms where needed and setting the thermostat to 62 degrees, you can save approximately $200 each year.
-Be sure to keep furnaces unblocked. Keeping furnaces and vents properly maintained will reduce energy consumption as well. Check your furnace filter monthly; replace it when it gets dirty.
-And since inside air can become very dry, it's important to add moisture with a humidifier. Moist air holds heat better; a humidifier helps you feel comfortable when the thermostat is set at lower temperatures. Another great tip is to increase humidity with house plants.
-Invest in inexpensive insulation. Cover up all areas where heat might escape. Foam weather stripping for doors and windows is inexpensive and easy to apply.
-As for exhaust fans, use them only when necessary since they pull hot air that rises to the ceiling. Remember to shut them off when done.
Legacy brands that Bill Leary installs, services, repairs, and performs maintenance on include: Goodman, York, Bryant, Carrier, Trane, Janitrol, Crown, Utica, Williamson, Weil McLain, Navien, Rheem, Ruud, Whirlpool, Bradford White and Rheem. 
As a local community driven business, the company gives back in a myriad of ways, supporting local and national organizations/groups, or giving funds to such groups.
Aside from being fully bonded, licensed, and insured, Bill Leary is certified by the State of New Jersey Department of Building and Construction Department to work on its most coveted projects, and certified by the New Jersey Economic Development Authority to do work in public schools.
Recently, the company was selected by the state to perform work on jobs at universities, public schools, municipal buildings, and police stations, among other sites.
Bill Leary offers free quotes on preventive maintenance contracts—never charging for 24-hour emergency service: 732-494-9200
Details

Written by

NJ NEWS Jersey Reporter
Local Police Departments to Crackdown on 'Drunk and Impaired Drivers' Throughout State: NJ Division of Highway Traffic Safety
Drive Sober or Get Pulled Over" Holiday Campaign Now Being Enforced
North Brunswick, NJ -- Do not get behind the wheel if you've been drinking -- period.
Designed to target drunk or impaired drivers over the holidays, the NJ Division of Highway Traffic Safety on Dec. 6 spearheaded its annual traffic safety program, according to a release issued by Attorney General Gurbir S. Grewal's office.
The campaign, dubbed "Drive Sober or Get Pulled Over," is part of a nationwide move to curtail "crash risks," during a period in which heavy traffic volume is typical on local roads. It runs through January 1, 2020.
The Division of Highway Traffic Safety has given 133 NJ police department's grants totaling $596,660. In Middlesex County, for example, nine Police Departments were given $5,500 each, and include: Edison, Metuchen, Monroe, North Brunswick, Old Bridge, Piscataway, Plainsboro, Sayreville, and South Brunswick.
Police departments in 19 other counties also received funds ranging from $8,800 to $6,000 (see "Final Grantee List"). The funds will "pay for saturation patrols and high-visibility sobriety checkpoints," noted the release.
Grewal says the move is designed to raise public awareness, while saving lives.
"The holidays are a time to celebrate with family and friends but if your celebration includes alcohol, leave the driving to someone else - a sober friend, a ride share, or public transportation," he said. "Being a responsible driver is one of the simplest ways to ensure a safe and happy holiday season for everyone."
In NJ, 125 lives were lost in drunk-driving crashes last year, a figure representing more than 20% of traffic fatalities recorded nationwide.
The National Highway Traffic Safety Administration (NHTSA), which maintains a Fatality Analysis Reporting System said that 10,511 people were killed in drunk-driving crashes in 2018, a figure that represents nearly 30% of all US fatalities recorded last year.  
More than 800 people lost their lives in traffic crashes involving a drunk driver in December of 2018, according to NHTSA. In addition, NHTSA recorded "more drunk-driving-related fatalities during the Christmas and New Year's Day holiday periods last year alone" compared to any other periods in 2018.
But fatalities are preventable -- officials warn that "driving under the influence of any substance, be it drugs or alcohol, is deadly, illegal, and selfish behavior," said Eric Heitmann, Director of the NJ Division of Highway Traffic Safety, adding, "To promote traffic safety this holiday season, law enforcement officers will be out in force looking for impaired drivers. If you drive under the influence … you can count on being stopped and arrested."
In 2018, more than three-quarters (372) of NJ's police agencies took part in "Drive Sober or Get Pulled Over."
Enforcement efforts last year resulted in more than 1,200 DWI arrests (alcohol and/or drugs) in NJ, while the participating police agencies issued 5,704 and 3,125 speeding and seat belt summonses, respectively, stated the release.
The release also cited "a number of departments" which "reported noteworthy accomplishments," including 15 agencies making at least 14 DWI arrests during the campaign.
Details

Written by

NJ NEWS Jersey Reporter
JERSEY CITY, NJ--Two additional officers and one civilian have also been struck by gunfire but they are stable. Canine Unit, Bomb Unit, Marine Services, Aviation, Field Ops. Tactical Patrol,Central Security, Trafficking, and Emergency Response Bureau are assisting. 
Details

Written by

NJ NEWS Jersey Reporter
SOUTH BRUNSWICK, NJ --It's the holiday season and most likely we all have a lot on our minds……BUT have you thought about your Home Heating System and whether or not it may need maintenance and or even replacing?
These are some indications that your Home Heating System may need to be replaced:
You are constantly repairing your system
Your home is being unevenly heated
Your energy bills are rising unexpectedly
Your heating system is 10-15 years old
Your system is making strange noises
Your home is not warming properly
Take a moment away from this very busy holiday season and THINK ABOUT IT!
If any of the above signs apply to your home's heating system, it could be time to consider replacing your heater! Modern and energy-efficient options are designed to last for about 18 years, which can save you money on your utility bills and reduce the likelihood of frequent future breakdowns and expensive repairs!
Here is where Guaranteed Service comes in to help! Guaranteed Service understands the importance of needing an efficient, fully operational HEATING SYSTEM to keep you comfortable throughout the cold New Jersey months! Whether your existing heating system has suddenly stopped working or you are simply in the market for an upgrade, Guaranteed Service's highly trained and experienced technicians will help! Having a skilled professional technician install your new heating system is essential to ensuring that your new equipment works properly. Guaranteed Service understands that replacing and or installing a new heating system is a large investment and want to ensure that you choose the right system for your home. When you call Guaranteed Service for any type of service, you can rely on us to show up on time and provide you with the highest quality experience. Guaranteed Service Comfort Advisors are true experts in their field and will be there to assist you in finding the proper solution to fit  your family and your budget as well.
No Heating System can last forever, even when you invest in yearly maintenance. The average heating system gets used on a regular basis throughout the winter and cooler months of the year. It makes sense to realize this type of constant use causes natural wear and tear, and over time, all heating systems will need to be replaced.  When your heating system comes to the end of its life, it's important to consult with an expert who can help you select the right replacement. A new Heating System will help you save significantly on your expenses as well as improve your indoor air quality! Newer models are also known to be easier to use AND less expensive to service. Guaranteed Service GUARANTEES it for LIFE!!!!
Why choose Guaranteed Service for your new Heating System? Guaranteed Service not only offers custom-designed comfort systems, but also stands behind our service and systems with a pledge of reliability and performance on which you can rely. Guaranteed Service GUARANTEES that when the equipment we installed is maintained and operated in accordance with the manufacturer's operating and maintenance manuals, the system will perform as stated and agreed upon. In fact, we are so confident in our products and services that we offer a LIFETIME parts warranty on replacement parts and a variety of comprehensive guarantees to improve the overall comfort of your home by protecting you from the expense of breakdowns and manufacturing defects, ensuring proper installation and making sure you have received the very best value and are 100% satisfied!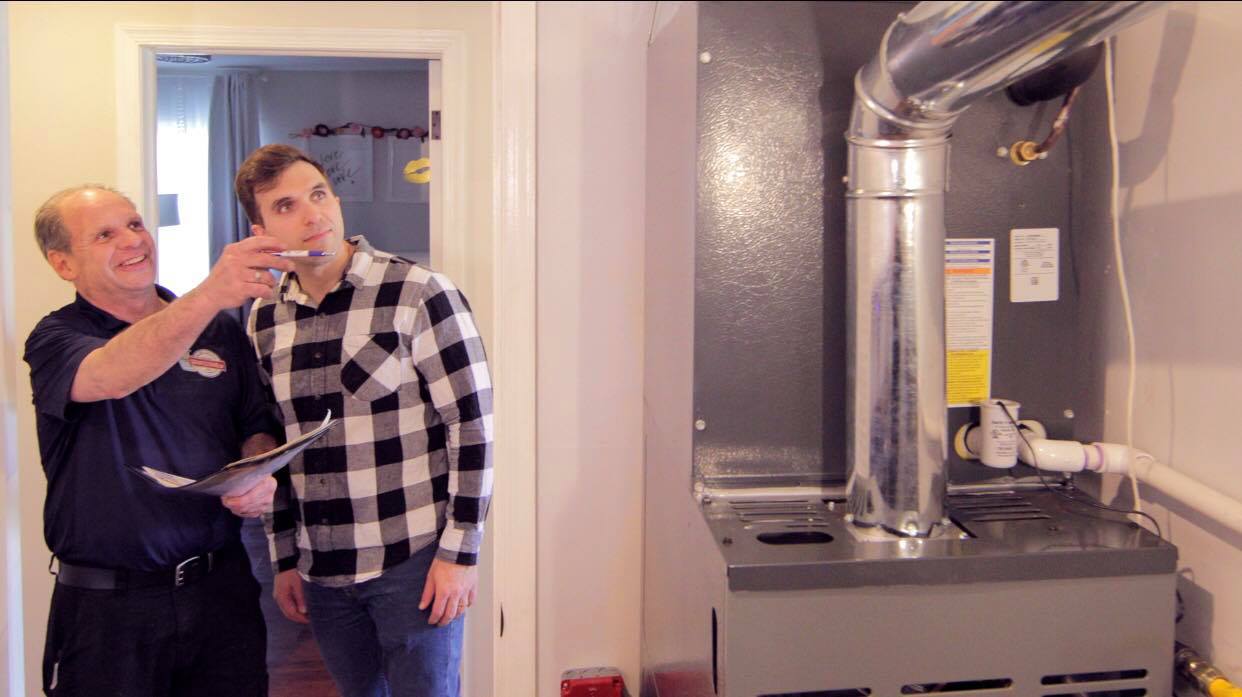 Guaranteed Service understands the importance of keeping your home comfortable and efficient without "breaking the bank"! Numerous financial options are available to our clients so that you will get the highest quality Air Conditioning, Heating and Plumbing Services you need now and pay later. Total home comfort should be available to families on every budget and that is why we keep our pricing affordable while retaining superior quality and industry leading warranties.
 Guaranteed Service offers
Interest Free Finance Options
Low Payment Options
No Money Down Options
Easy Application Process
We have financing plans designed to work with you! Speak with us to learn more about applying for financing for your next heating or cooling installation or replacement. We are here to help!
You may wonder what makes Guaranteed Service SO SPECIAL…..
From first greeting you to the scheduling of your appointment, Guaranteed Service will go above and beyond to schedule your service at your convenience! Your appointment will be promptly scheduled and we will keep you notified along the way with a photograph of your technician, map to track his location, and reminders regarding your appointment.
Your technician and installer will impress you from the moment they arrive at your home by checking to make sure they are conveniently parked, place shoe booties and drop cloths to protect your home and keep you informed throughout the visit. Our technicians will treat your home and your family respectfully and they will make sure that you are completely satisfied with your new installment or repair!
Remember!
Lifetime Guarantees on Installation for all of our installed heating and air-conditioning equipment.
Guaranteed Service uses ONLY the correctly sized heating and cooling systems for your home which we inspect and measure specifically matched to your entire home to ensure that the heating and cooling system you choose will be perfect for you and your family.
Easy and affordable payment options and interest free financing options for up to 5 years.
Friendly, knowledgeable and honest highly trained and professional staff and technicians to ensure our customers are well taken care of and will be most comfortable in their homes.
The Day of Your Installation!
Guaranteed Service Installation Team will take personal responsibility for your complete satisfaction and will work until the job is complete and you are 100% satisfied.
Installation is scheduled at your convenience and we arrive on time.
Our technicians and installers are diligent to make sure the installation is completed perfectly and on time.
The team wear "shoe booties" and put down drop cloths to protect your home and your belongings.
You will never have to worry about who is in your home! You will be treated with the utmost respect and caring.
Before the team leaves, you will have time to ensure that you understand the systems thoroughly and how they operate as well as review manuals and thermostat. All questions will surely be answered.
Please see our You Tube Video: CLICK HERE!
GUARANTEED SERVICE hopes you enjoy the Holiday Season and reminds you to check your home heating system! Guaranteed Service is proud to offer top notch, skilled professionals who will make sure you have a safe, comfortable Heating System by helping you research your options, and if your system needs replacement, by  providing you with the most modern, energy-efficient system! We are available to answer all your questions and concerns! We are available evenings and weekends to make sure you are taken care of no matter what time! We are most respectful of you and your family, your home and your environment! We have a written 100% Satisfaction Money Back Guarantee. We even will handle all permits if needed for your installation. 
Contact US Today! And Visit Our Website!
Call us! 1-732-412-1134
We are Guaranteed Service
HVAC Plumbing and Home Improvement Contractors!
Proudly Serving all of Central New Jersey!!!
By Leah Brown Klein
News Reporter & Writer