Top Stories
Details

Written by

NJ NEWS Jersey Reporter
EAST BRUNSWICK, NJ--National Estate Jewelry Buyers is a premier, full-service jewelry store, located at 212 NJ 18, in 
East Brunswick, NJ. Established in 1999, Barry E. Blank, G.G., Graduate Gemologist - President 
of National Estate Jewelry Buyers assembled a team of high experienced professionals,
including Graduate Gemologists, Numismatists (coin specialists) and Horologists (watch
specialists), who specialize in evaluating, purchasing, and selling Antique, Contemporary and
Estate Jewelry, Diamonds, Watches, Silver, Coins, Antiques and Objects d' Art. In addition,
appraisal services, jewelry repair and restoration, custom engagement rings, house calls, and
pawn broker services, where your jewelry, designer handbags, watches, coins, and collectibles
have loan power, are offered.
Jewelry and antiques are in Barry's blood. His grandfather Berthold (Bert) was a manufacturing
jeweler, with an office that was located at 62 West 4 
th 
Street in Manhattan. His grandmother
Helen Horn had a retail jewelry booth on West 47
th
, where she sold the jewelry that Bert
designed, and his Uncle Stanley - his mother's brother was a diamond setter, who worked
together with Bert and Helen. 
Barry's parents, Bruce and Harriet Blank, engrained strong work ethics and values within him. 
Through their love and guidance, he learned to set goals, and have respect and compassion for 
those around him. When his dad semi-retired as a pharmacist, he found his true passion, he 
found his love for antiques, and opened "Horses Head Antiques" of Valley Stream, NY in 1970.
He then studies at the Gemological Institute of America and became a certified diamond
specialist. 
Following in his father's footsteps, Barry attended and graduated from the Gemological
Institute of America, with the only passing grade of 100% and became a G.G. Barry was blessed
to have wonderful role models, an excellent education, and the ability to study abroad. This
truth that holds true every day for me is - 
I am not the boss
," says Barry. "My clients are, and 
we treat them like platinum - the most precious metal used to make jewelry!" 
Whether you want to buy or sell diamonds and watched and coins, looking for a customized 
engagement ring or seeking pawn 
broker services to help with payroll or family expenses, stop 
by or schedule an appointment at National Estate Jewelry Buyers.
Follow on Facebook and Instagram, and checkout National
Details

Written by

NJ NEWS Jersey Reporter
EAST BRUNSWICK, NJ--It is hard to believe it will be two years since the Grand Opening of Always and Forever Flowers LLC in East Brunswick, New Jersey. The opening ceremony took place at this brand new shop on April 17, 2021 and was well attended by even the Mayor of East Brunswick amid the middle of the Pandemic! The sole owner, Elizabeth Collazos de Diaz, had just finished her nine month program at the International Association of Professions Career College with her Florist degree.
Ms. Collazos de Diaz was determined to start her own business and make Always and Forever Flowers a success!
Elizabeth is most grateful for being welcomed by the community with open arms and her business has flourished. As a member of the East Brunswick Chamber of Commerce, she has been actively networking and aside from maintaining her regular and returning clientele, her business has expanded a bit to include some commercial clients.
Elizabeth and her staff are running her shop, interacting with her clients, creatively preparing arrangements of live and silk flowers as well as balloon gifts. She loves designing the flower arrangements to meet her client's expectations. While customers can easily choose options on the consumer-friendly website, Ms. Collazos de Diaz enjoys when clients either come into the store and or have phone conversations with her in order to creatively prepare the perfect arrangements.
Elizabeth suggests checking out her beautiful website which allows clients to look at prices, choose occasions, look at flower types and colors as well as styles and occasions whether for weddings, anniversaries, birthdays, special events, gift sets, get well, sympathy and funeral, thank you, just because, and much more!
Always and Forever Flowers is open seven days a week and for a small delivery charge flower arrangements can be delivered to most surrounding areas of East Brunswick including New Brunswick, Old Bridge, South River, Parlin, Sayreville, South Amboy, Spotswood, Manalapan, Milltown, Morganville and Aberdeen.
Ms. Collazos de Diaz wishes you to know it is her pleasure and joy to prepare the most beautiful flower arrangements for you and your families, friends and colleagues. Elizabeth hopes you will stop by and visit her lovely shop where she has an amazing assortment of fresh flowers for you to enjoy.
Always and Forever Flowers LLC is conveniently located at 592 NJ Route 18 North in East Brunswick with plenty of parking.
Stop by and or call (732) 679-1911 and visit www.alwaysandforeverflowers.com
Email This email address is being protected from spambots. You need JavaScript enabled to view it.
Details

Written by

NJ NEWS Jersey Reporter
Support Local Business!!! Full Service Salon Opens in the Heart of North Brunswick!!!
North Brunswick, NJ -- Karen Marcial and Stephany Guarderas "dream big" the two business partners mentioned in an exclusive interview with www.NJnewsjersey.com reporters.  
When the two beauty lounge owners first met years ago while working together, it seemed like the right time to launch their new shop Color on Edge.
So, the duo "united forces to create something very big," they said, adding that it was finally time to execute their vision. 
Passionate about the industry, the business partners have been doing hair for a very long time for friends and family. Now they want to share their knowledge with new patrons, as well, while offering that "higher level of service" and seamless in-salon experience.  
"We support customers," they said of the establishment and what it represents. More service – always…  
Most of their existing clientele lives in North Brunswick, so the location made all the more sense. With decades of experience, the duo said they each "started at the bottom" but
never lost sight of their vision. Marcial started when she was in high school practicing on family,  herself and kids – it was a hobby that she loved, she said, citing her "lifelong dream."
Receiving her license has paid off.  She went to beauty school at night in East Brunswick at Middlesex County Vocational and Technical Schools, recently renamed, Middlesex County Magnet Schools. 
Guarderas said she started when she was 15 years old. Her parents made her a play salon in their basement, she recalled. She's a graduate of NJ's Robert Fiance Beauty Schools.
"I went to school at Robert Fiance Beauty School and was working at home in my basement," she said. "Than I got experience working at a salon and being a manager."
Asked how they hooked up, Guarderas and Marcial, explained that while working together at the same salon, both definitely knew they had a good chemistry. (Besides, they did each others hair…)
"It simply became a reality," said Marcial of their new venture.
And while the name Color On Edge took them many hours to finalize, it's now open. 
"People want to look edgy and modern," noted Guarderas.
Marcial, who specializes in balayage, ombre, hair extensions, color correction, and bridal hair, said. "Can't wait to see you behind my chair, to customize your look and needs."
On November 13 they shared beauty tips and a few of their favorite stories with those present at an afternoon launch party/grand opening event, plus much more. 
The two operated individual studios in Sayreville and Woodbridge for about two years riding out the pandemic, but never losing their vision.
"We do braids, haircutting basic touch ups, highlighting, perms, kids cuts, braiding, extensions, eye brow tinting, eye lash select, nails and manicures," added Guarderas. (Extensions, Braids, Brow Bar, Permanent Makeup, Lash Bar, Waxing.)
Please call our business phone for an appointment : (732)-743-5889
Watch for many great offers and promotions at Color On Edge, which is open seven days a week. Please ask about offers available at the shop. 
Note: the establishment's location in Hidden Lake Towne Center is next to the pizzeria. And there's also a dog park nearby.
Color On Edge: 430 Towne Center Drive, North Brunswick Township, NJ 08902.
Details

Written by

NJ NEWS Jersey Reporter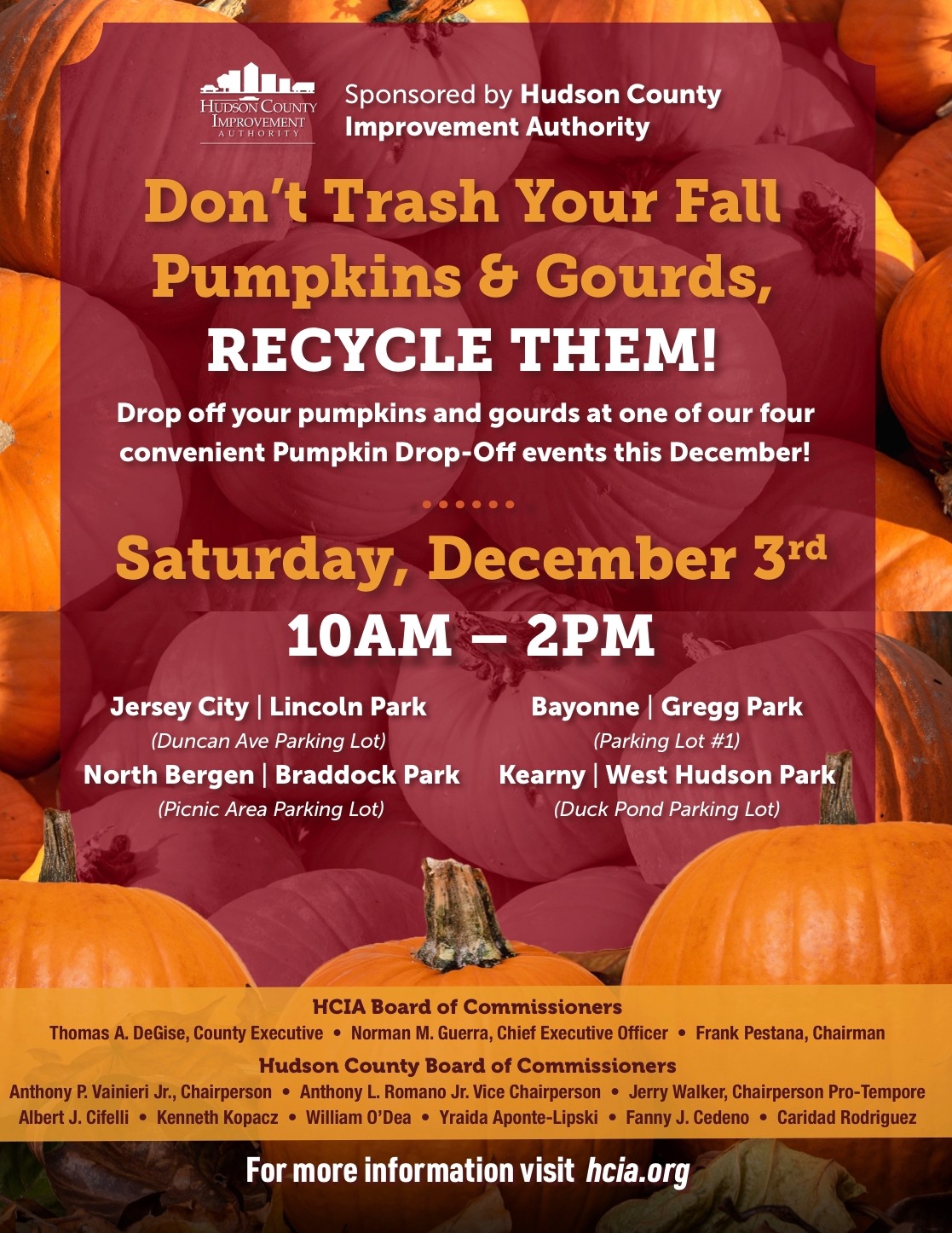 Hudson County, NJ--Pumpkins are surely no good for our landfills or environment.
That's why Hudson County Improvement Authority urges residents to recycle those gems on December 3, from 10 am to 2 pm at your local park.  
Since landfills lack oxygen, organic matter such as pumpkins produce methane gas, which is quite harmful for the climate, according to a report by Environmental Magazine.
But fortunately the report listed six methods to recycle pumpkins -- so be "eco-friendly" –go to one of HCIA's events to get rid of them, this year. 
You can compost your pumpkins, feed wild animals or birds, consume the seeds, eat the skin and/or refresh it, as well.

First, remember to compost, as pumpkins are loaded with vitamins.
And while water is harmful to the landfill, it's great for the compost pile.

"Clean out the seeds so you don't have unwanted pumpkins growing in the pile," said the report. "Chop up the rind to speed up decomposition and bury it under dried leaves or sawdust to keep hungry critters away."

While animals in your backyard tend to be a nuisance, it's still nice to feed them.

Yes, "Many backyard animals (e.g., deer, rabbits, squirrels, woodchucks) get that "pumpkin feeling" in the fall, and they can't pull up to a Starbucks like we can," noted the magazine, adding: "Leave the jack-o-lantern out, as is, for your furry friends to snack on..."
To please the birds, slice pumpkin in half lengthwise and fill it with birdseed, writes the magazine.
"...Hang it from a tree branch or railing. You can also cut out a large, oval opening at the front of the pumpkin and clean out the inside," said the magazine. "The birds will have a soft, cozy place to land in and have a snack."

Most of us know that those seeds are delicious and also health food, so why not save them? (Or if you don't, go to one of HCIA's recycling events to get rid of them.)

"Roast the seeds by first using a paper towel to blot away any pulp, then spread the seeds out on a paper bag to dry overnight," said the report. "Next day, spread the seeds out on a cookie sheet and roast for no longer than 20 minutes. Bag the roasted seeds to have ready-to-go snacks or use them in salads, soups, or burger mix."
Still, why not bake pumpkin skin chips? Yes, the skin is full of essential vitamins and nutrients.

"Carefully cut off the skin in long slices, as thin as you can get them. Put the skins into a large bowl, sprinkle generously with Kosher salt," said the report. "Let sit for 10 minutes (and) add a small amount of extra virgin olive oil or sesame oil. Bake for 25-30 minutes at 400 degrees. Sprinkle the pieces of skin with paprika and sea salt and crisp in a dehydrator for additional flavor."

You can also prepare a puree for pies, shakes, lattes or ice cream, so long as you haven't carved the pumpkin. 
But to replenish your skin and make a skin coating: "Cut up the rind, steam it until tender and puree it in a food processor or with a hand-held mixer... Mix about one-fourth of a cup of the puree with one egg and add an ingredient for your skin type, e.g., honey for dry skin, apple cider for oily skin," added the report.

Bright fall pumpkins are reportedly everywhere. But they don't go in the landfill, according to the report. They're mostly water and add way too much water to landfills. So please attend one of HCIA's recycling events.

Pumpkins also make groundwater contamination worse.

"As pumpkins break down," said the report. "They create methane (CH4), a greenhouse gas that is more powerful than carbon dioxide (CO2)." 
 Saturday, December 3rd 2022 between 10am and 2pm
Here are the drop-off locations for December's event.
Jersey City | Lincoln Park (Duncan Ave Parking Lot)
North Bergen | Braddock Park (Picnic Area Parking Lot)
Bayonne | Gregg Park (Parking Lot #1)
Kearny | West Hudson Park (Duck Pond Parking Lot)
Each separate event is on Saturday, December 3, 2022, from 10 am to 2 pm.