Top Stories
Details

Written by

NJ NEWS Jersey Reporter
SOUTH BRUNSWICK, NJ--THE PARK Indian Restaurant is hosting their GRAND OPENING with Banana Leaf Thali on Saturday July 16th ! Ribbon Cutting Event at approximately 10:30am !
Please come and welcome THE PARK where you will be enjoying their authentic and traditional Southern and Northern Indian Cuisines! The PARK named after the idea of actually constructing a small park on the property for families to enjoy and kids to play and have fun. The PARK is looking forward to becoming the new hot spot in town for parties and events as well as just enjoying family time for lunch and or dinner. The PARK has plenty of space as well as an extra party or meeting room for a memorable occasion!
THE PARK offering Northern and Southern cuisines presents dishes you may not find at many traditional Indian eateries. For instance, begin with a Chicken Malli Saru soup made with Chettinadu spices!
One of the vegetarian appetizers is THE PARK's Veg Cutlet, simple mashed and spiced vegetable patty dipped in batter, bread crumbs and deep fried! More vegetarian treats as appetizers must be explored!!
THE PARK's non-vegetarian appetizers present Egg Bonda which is hard boiled eggs coated with a batter made from gram flour and then deep fried! You may want to try Nethili Fish Fry or perhaps Shrimp 65. Many more unique non-vegetarian apps for you to check out!
THE PARK serves traditional and non-traditional Tandoori plates, both vegetarian and non-vegetarian. Some of the vegetarian options are the Potato Capsicum Masala which is a South Indian style gravy made with potato and capsicum, and Paneer Butter Masala, a rich and creamy curry with paneer, spices, onion, tomato, cashews and butter!
THE PARK's both Northern and Southern cuisines as entrees include such interesting dishes as House Spl Egg Curry, Malabar Fish Curry, and Kadai Chicken. Of course many Biryanis are offered for you to try such as Vegetable Dum Biryani and Egg Biryani!
Some of the unique breads to check out would be the Kashmiri Naan and the Cheese Naan, Tawa Roti and the House Special Naan. So many choices!
THE PARK of course presents Dosa Specials for you such as Podi Dosa, a Southern Indian spl Thin rice and lentil crepe filled with a mixture of dry spices powder! Many more fascinating dosas and South India Specials, for instance, Idly ( a savory rice patty made from lentils served with chutney and sambar) or perhaps try the Chat Corner for Aloo Papri Chat or Samosa Chat!
Grill Griddle dishes such as Malabar Parotta with Salan and Veg Kothu Parotta again are there for you to explore!
Many wonderful Indian dishes to try and enjoy!!!!
THE PARK reminds you to BYOB as well!
Conveniently located at 2316 HWY 130 in Dayton, New Jersey and is open for lunch and dinner six days a week (closed only on Mondays).
THE PARK also offers ordering for your pick up as well!
THE PARK is delighted to serve your family/friends and or business occasions and events even offering a private entrance for your guests!
Make your RESERVATION, meet THE PARK's awesome staff (hailing from Southern AND Northern India) and socialize w your community in this lovely setting!
The Grand Opening at THE PARK will feature the Traditional Feast of Indian foods.
Available slots are:
11:00 – 12:00
12:00 – 1:00
1:00 – 2:00
2:00 – 3:00
Unlimited Banana Leaf Thali at $35.00/person!
Call THE PARK at 1-732-820-6650
Details

Written by

NJ NEWS Jersey Reporter
New Brunswick, NJ–A proposed merger between RWJBarnabas Health (RWJBH) and Saint Peter's Healthcare System was, following federal action, recently abandoned by the two rivals.
The parties' plans to combine unraveled quickly this month; The Federal Trade Commission (FTC) on June 2 authorized an administrative complaint and lawsuit in federal court to block the deal, saying it was "anticompetitive" and "should never have been proposed" in the first place.
To boot, FTC wants the blocked merger to send a signal to other hospital systems throughout the country.
"[We] will not hesitate to take action in enforcing the antitrust laws to protect healthcare consumers faced with unlawful hospital consolidation," said the agency.  
"There is overwhelming evidence that this acquisition would be bad for patients, because the parties would no longer have to compete to provide the lowest prices and the best quality and service," FTC Bureau of Competition Director Holly Vedova, said of the deal in early June. That's when FTC sued to block the acquisition by RWJBH.
Saint Peter's University Hospital and RWJ University Hospital New Brunswick are less than a mile from each other. The pair is included among the three largest hospitals in Middlesex County, yet the only two in New Brunswick.  
The FTC said that Saint Peter's Healthcare began considering whether to partner with a larger health system in 2015.
"In February 2018, Saint Peter's Healthcare decided to proceed further and, by November 2018, had issued a Request for Indicative Proposal to 40 entities. Four entities responded to the request, including RWJ," said court papers. "Saint Peter's Healthcare narrowed its potential merger partners down to RWJ and one other entity before ultimately selecting RWJ. [In the fall of 2020] RWJ and Saint Peter's Healthcare entered into a Member Substitution and Merger Agreement setting forth the terms of the Acquisition."
The commission said a combined healthcare system would have given it at least half the market for general acute care services in Middlesex County — easily creating "a presumption of harm under the antitrust laws."
RWJBH and Saint Peter's Healthcare are direct competitors and both systems routinely identify the other as the most significant competitor when assessing competition and strategizing on providing general acute care services in Middlesex County, according to the commission.
"This competition incentivizes RWJ and Saint Peter's Healthcare to improve quality, technology, amenities, equipment, access to care, and service offerings," added the commission.
The entry of other health providers into the general acute care services market in Middlesex County will not be timely, likely, or sufficient to counteract the anticompetitive effects of the acquisition, said the FTC, explaining that it issues an administrative complaint when it has "reason to believe" that the law has been or is being violated and it appears to the [agency] that a proceeding is in the public interest.
The issuance of the administrative complaint marks the beginning of a proceeding in which the allegations will be tried in a formal hearing before an administrative law judge, added the commission.
RWJBH has 614 licensed beds and did $6.6 billion in revenue in 2021, while Saint Peter's Healthcare (478 beds) recorded $579 million in revenue for the same period. RWJBH is headquartered in West Orange, New Jersey, while Saint Peter's Healthcare is headquartered in New Brunswick.
The FTC vote to issue the administrative complaint and to authorize staff to seek a temporary restraining order and preliminary injunction was 5-0. The federal court complaint and request for preliminary relief was filed in the US District Court for the District of New Jersey to halt the transaction pending an administrative proceeding. The administrative trial was scheduled to begin on November 29, 2022. 
In Utah, on June 16 another deal also was called off by two healthcare systems seeking to combine.
"Had this transaction been allowed to proceed, it would have combined the second and fourth largest healthcare systems in Salt Lake City and the Wasatch Front region of Utah, resulting in higher prices, less innovation, and lower quality care for patients," said Vedova, adding that it "should be a lesson learned to hospital systems all over the country." 
"I am glad that patients and healthcare providers will not have to endure any more uncertainty while waiting for courts to rule on the FTC's legal challenges."
"This difficult decision was not reached lightly," RWJBH CEO Barry Ostrowsky said in a statement. "We are disappointed in the termination of the proposed transaction, which we believe would have transformed quality, increased access and decreased the overall cost of care for the people of this state through the creation of a premier academic medical center."
Saint Peter's Healthcare said the decision to call off the deal was shared between the two organizations.
"We are now assessing the best way to move forward as we consider potential options to ensure Saint Peter's longstanding Catholic healthcare mission," Saint Peter's Healthcare President and Chief Executive Leslie D. Hirsch said.
Watchdog Agency to Update Merger Guidelines
The FTC and Department of Justice (DOJ) review more than a thousand merger filings per year.
And since certain deals like the proposed merger in New Brunswick require in-depth investigation, the FTC relied on its toolbox of best practices to help identify combinations that present competitive problems.
While the FTC has said that for some deals it's possible to resolve concerns by consent agreement with the parties, in a few cases the stakeholders cannot agree on a way to fix competitive problems – so the federal government goes to federal court to prevent the merger in the first place. (Pending an administrative trial on the merits of the deal.)
The FTC and the DOJ are currently revising the existing merger guidelines.
"This is basically our enforcement manual for how we identify unlawful deals," said FTC Chair Lina Khan, recently.
The watchdog agency also is "stepping back and doing a bigger reset," added Khan.
The commission hopes to publish its final guidelines by the end of the year.
Details

Written by

NJ NEWS Jersey Reporter
FRANKLIN PARK, NJ--Have you experienced the award-winning Indian restaurant SAMUDHRA yet? Samudhra, meaning "ocean", is located on Route 27 in Franklin Park, New Jersey and has been awarded 5 stars for its excellent and unique Northern and Southern Indian Cuisine as well as its beautifully designed high end Indian dining architectural palace.
The Founder, President and CEO of SAMUDHRA is Mangesh K. Chinthamaneni, an Information Technology entrepreneur turned restauranteur! Mr. Chinthamaneni has realized his dream project which took several years in the making with much attention to all aspects of Samudhra which brings together the fine dining experience of Indian foods, the extravagant ambiance, and the impeccable customer service. Mr. Chinthamaneni's love for freshly made and all natural ingredients incorporates everything from marinades and condiments to amazing spices imported directly from India.
Alongside the intimate and/or versatile dining areas of Samudhra is the dazzling lounge which displays the 183-inch screens with superbly designed seating. Enjoy a handcrafted cocktail such as the Mumbai Velvet Margarita, Kala Jamun or Pistachio Chai Latte! Enjoy Mr. Chinthamaneni's wines imported as well from all over the world. The Lounge features Happy Hours between 11:30 and 6pm  "Finest Collection of Spirits".
Samudhra presents vegetarian, non-vegetarian and seafood Thalis every day lunch from 11:30 am – 2:30 pm ! Samudhra also offers a limited menu for those wishing to dine between the hours of 3:00 pm and 6:00 pm !
Check out the incredibly enticing food menus for dinner offering soups such as Nimbu Rasam a tomato lime soup with Indian tempering or perhaps the Kozhi Charu a chicken soup with Southern Indian spices!
There are many vegetarian and non-vegetarian choices for appetizers to be followed with Tandoor dishes, vegetarian and non-vegetarian entrees as well as Biryanis and Rice and rated by www.NJnewsjersey.com  as BEST in the USA!!!  homemade breads such as Chilli Garlic Naan and Pizza Naan!
You can check out the extensive menus with wonderful choices on line at www.samudhra.com
In India and other places around the world, Samudhra's Food Philosophy is "Culture, Craftsmanship, Consciousness and Celebrations"!
Dishes are made from scratch every day using the best ingredients, hand prepared spices from India incorporating age old Indian culinary traditions and cooking methods with strict compliance of health standards. Mr. Chinthamaneni's team, Executive Chef Dheeraj Tomar, Sous Chef Rakesh Naik, and Sous Chef Swarna Latha are committed to patrons experiencing the authentic and joyful Indian cuisine and surroundings.
 Samudhra Premium Restaurant and Lounge is centrally located! Outdoor seating and Catering available, Dine in or Take out
at 3391 State Route 27 in Franklin Park, New Jersey 08823
Samudhra is open 7 days a week for lunch, small bites, and dinner AND special occasions!!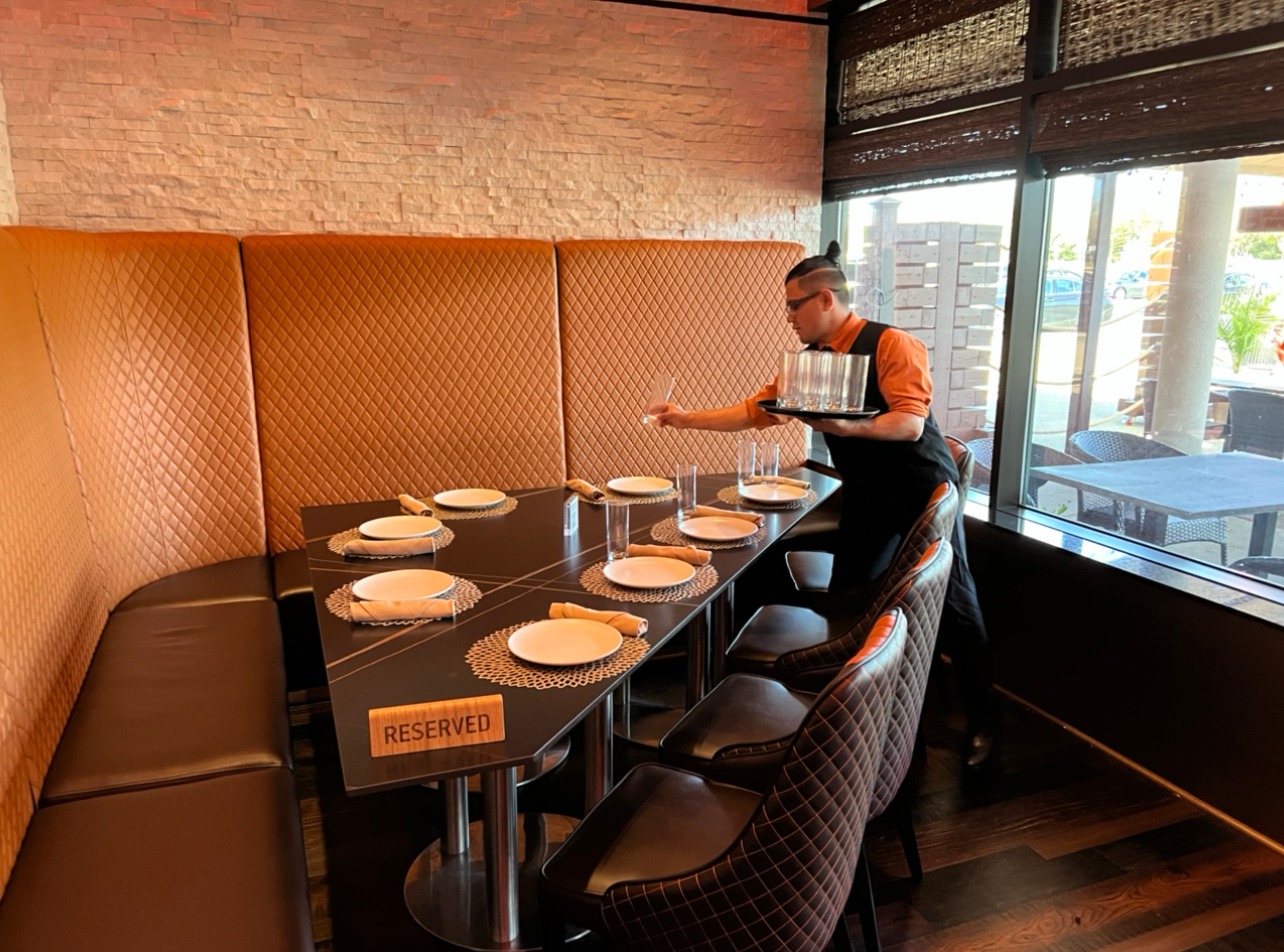 Details

Written by

NJ NEWS Jersey Reporter
 MONROE TOWNSHIP, NJ--The broker/owner of Mid State Realty and JonKat Construction, John Profaci, is making an outstanding contribution and value in two industries.
While real estate and leasing deal volume continue to increase year over year, much of that growth reflects upticks in related ventures. Real estate offices where agents and brokers work and developers collaborate with contractors and others throughout the construction process.
Profaci's diversified companies Mid State Realty and Jonkat Construction, excel at building homes in Central Jersey, creating new housing and everything else involved in the process. They believe in constructing every home as though it was their own.
Profaci also leverages data through a myriad of subscriptions and partnerships with providers of analytics to the trade. Knowing in real time the most up to date availability given any geography is crucial.
"We understand the quality of life that can be had in all of New Jersey's counties and we work with you to find an ideal location and home for you," stated Profaci. "We use our professional expertise and extensive knowledge to help you find your dream home or help you sell your current home."
Sister company JonKat Construction constructs new homes, does commercial construction and remodeling work, among a slew of other services
While the Pandemic's influence on the housing market continues, the housing market hasn't settled back into old ways. And being stuck at home led to a revaluation of individuals' needs and wants when demographics were already favorable for housing, according to reports. This resulted in rising demand for housing, making shortages greater.
But as demand ramped up and the construction industry came up against issues with material and labor scarcity, Jonkat Construction responded creatively. It minimized the increasing cost of inputs, working hard to reduce the gap between home construction and household formations. And with strong local demand, Jonkat didn't let these challenges curtail its growth.
Still, more construction is needed to catch up; and where supply chain challenges hindered others JonKat Construction found ways to adapt. The team worked harder and smarter to prevent its clients' demand from outpacing new construction opportunities.
"No matter what type of home you own, we have agents who specialize in your neighborhood and get you the best price quickly," stated Mid State Realty, adding that Jonkat Construction is a full service company inclusive of: Home Builder, Commercial Construction, Homes Built, Land Acquisition, Kitchen, Master Bathroom, Foyer, Sunroom, Living Room and more. 
As a real estate brokerage firm, Mid State Realty's staff of trained and certified agents will assist you with a variety of home buying and selling needs – both residential and commercial. Mid State Realty also provides home valuation, project management, market analysis, moving services, free reports and inspection. Moreover, Mid State Realty provides demographics related to neighborhoods, local communities and school districts. From procuring land to drawing up plans, high curb appeal is guaranteed.
Take land development. It's necessary to understand zoning rules and regulations to complete projects quickly. Without these skills, contractors face difficulties, but Profaci and his team of craftsmen, subcontractors and designers have the know how. John Profaci and his team are here for you! Recently launched an expansion of the Mid-State Commercial Division and will be scaling a larger footprint throughout all of New Jersey in the next few months www.Mid-StateCommercial.com 
please write us a REVIEW on GOOGLE