Top Stories
Details

Written by

NJ NEWS Jersey Reporter
FRANKLIN PARK, NJ--Have you experienced the award-winning Indian restaurant SAMUDHRA yet? Samudhra, meaning "ocean", is located on Route 27 in Franklin Park, New Jersey and has been awarded 5 stars for its excellent and unique Northern and Southern Indian Cuisine as well as its beautifully designed high end Indian dining architectural palace.
The Founder, President and CEO of SAMUDHRA is Mangesh K. Chinthamaneni, an Information Technology entrepreneur turned restauranteur! Mr. Chinthamaneni has realized his dream project which took several years in the making with much attention to all aspects of Samudhra which brings together the fine dining experience of Indian foods, the extravagant ambiance, and the impeccable customer service. Mr. Chinthamaneni's love for freshly made and all natural ingredients incorporates everything from marinades and condiments to amazing spices imported directly from India.
Alongside the intimate and/or versatile dining areas of Samudhra is the dazzling lounge which displays the 183-inch screens with superbly designed seating. Enjoy a handcrafted cocktail such as the Mumbai Velvet Margarita, Kala Jamun or Pistachio Chai Latte! Enjoy Mr. Chinthamaneni's wines imported as well from all over the world. The Lounge features Happy Hours between 11:30 and 6pm  "Finest Collection of Spirits".
Samudhra presents vegetarian, non-vegetarian and seafood Thalis every day lunch from 11:30 am – 2:30 pm ! Samudhra also offers a limited menu for those wishing to dine between the hours of 3:00 pm and 6:00 pm !
Check out the incredibly enticing food menus for dinner offering soups such as Nimbu Rasam a tomato lime soup with Indian tempering or perhaps the Kozhi Charu a chicken soup with Southern Indian spices!
There are many vegetarian and non-vegetarian choices for appetizers to be followed with Tandoor dishes, vegetarian and non-vegetarian entrees as well as Biryanis and Rice and rated by www.NJnewsjersey.com  as BEST in the USA!!!  homemade breads such as Chilli Garlic Naan and Pizza Naan!
You can check out the extensive menus with wonderful choices on line at www.samudhra.com
In India and other places around the world, Samudhra's Food Philosophy is "Culture, Craftsmanship, Consciousness and Celebrations"!
Dishes are made from scratch every day using the best ingredients, hand prepared spices from India incorporating age old Indian culinary traditions and cooking methods with strict compliance of health standards. Mr. Chinthamaneni's team, Executive Chef Dheeraj Tomar, Sous Chef Rakesh Naik, and Sous Chef Swarna Latha are committed to patrons experiencing the authentic and joyful Indian cuisine and surroundings.
 Samudhra Premium Restaurant and Lounge is centrally located! Outdoor seating and Catering available, Dine in or Take out
at 3391 State Route 27 in Franklin Park, New Jersey 08823
Samudhra is open 7 days a week for lunch, small bites, and dinner AND special occasions!!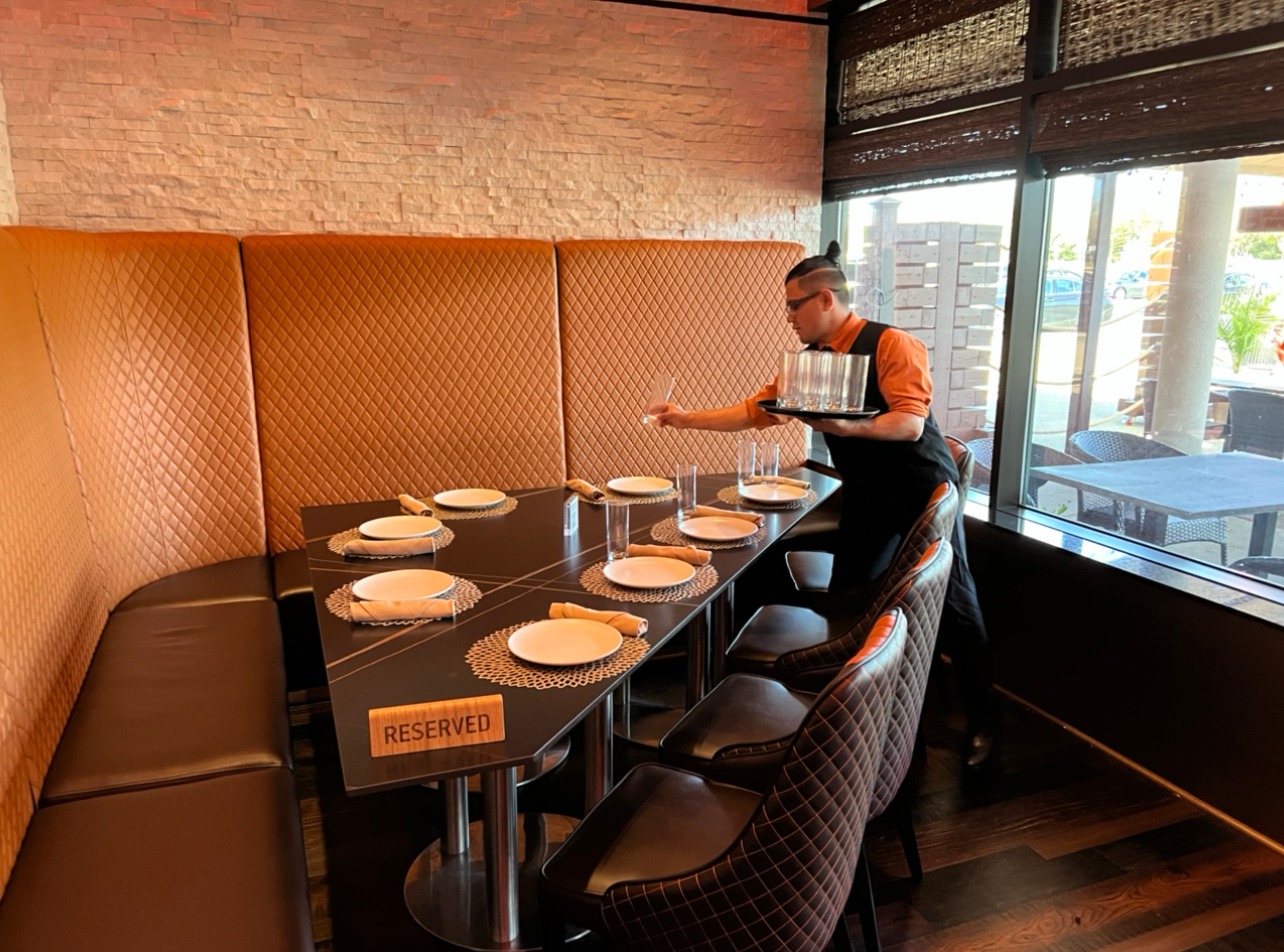 Details

Written by

NJ NEWS Jersey Reporter
 MONROE TOWNSHIP, NJ--The broker/owner of Mid State Realty and JonKat Construction, John Profaci, is making an outstanding contribution and value in two industries.
While real estate and leasing deal volume continue to increase year over year, much of that growth reflects upticks in related ventures. Real estate offices where agents and brokers work and developers collaborate with contractors and others throughout the construction process.
Profaci's diversified companies Mid State Realty and Jonkat Construction, excel at building homes in Central Jersey, creating new housing and everything else involved in the process. They believe in constructing every home as though it was their own.
Profaci also leverages data through a myriad of subscriptions and partnerships with providers of analytics to the trade. Knowing in real time the most up to date availability given any geography is crucial.
"We understand the quality of life that can be had in all of New Jersey's counties and we work with you to find an ideal location and home for you," stated Profaci. "We use our professional expertise and extensive knowledge to help you find your dream home or help you sell your current home."
Sister company JonKat Construction constructs new homes, does commercial construction and remodeling work, among a slew of other services
While the Pandemic's influence on the housing market continues, the housing market hasn't settled back into old ways. And being stuck at home led to a revaluation of individuals' needs and wants when demographics were already favorable for housing, according to reports. This resulted in rising demand for housing, making shortages greater.
But as demand ramped up and the construction industry came up against issues with material and labor scarcity, Jonkat Construction responded creatively. It minimized the increasing cost of inputs, working hard to reduce the gap between home construction and household formations. And with strong local demand, Jonkat didn't let these challenges curtail its growth.
Still, more construction is needed to catch up; and where supply chain challenges hindered others JonKat Construction found ways to adapt. The team worked harder and smarter to prevent its clients' demand from outpacing new construction opportunities.
"No matter what type of home you own, we have agents who specialize in your neighborhood and get you the best price quickly," stated Mid State Realty, adding that Jonkat Construction is a full service company inclusive of: Home Builder, Commercial Construction, Homes Built, Land Acquisition, Kitchen, Master Bathroom, Foyer, Sunroom, Living Room and more. 
As a real estate brokerage firm, Mid State Realty's staff of trained and certified agents will assist you with a variety of home buying and selling needs – both residential and commercial. Mid State Realty also provides home valuation, project management, market analysis, moving services, free reports and inspection. Moreover, Mid State Realty provides demographics related to neighborhoods, local communities and school districts. From procuring land to drawing up plans, high curb appeal is guaranteed.
Take land development. It's necessary to understand zoning rules and regulations to complete projects quickly. Without these skills, contractors face difficulties, but Profaci and his team of craftsmen, subcontractors and designers have the know how. John Profaci and his team are here for you! Recently launched an expansion of the Mid-State Commercial Division and will be scaling a larger footprint throughout all of New Jersey in the next few months www.Mid-StateCommercial.com 
please write us a REVIEW on GOOGLE 
Details

Written by

NJ NEWS Jersey Reporter
FLEMINGTON, NJ--Prime Time Real Estate has this property Listed at $1,259,000 this spectacular 4 Bedroom 4 bath located in Historic Flemington, New Jersey. This Upgraded Toll Brothers Open Floor plan boasts over 4038 Square feet of Luxury living space plus a full walk out basement that could be finished for the expanding family. Soaring entry foyer compliments the coffered ceiling and custom wood work throughout. This home has hardwood flooring, central air and heat, expanded kitchen with professional appliances. Many nice features include: Walk in pantry, upgraded laundry room with shelving and granite counters, spacious bedrooms , porcelain tiled baths, solar powered lights, heated in ground salt water pool. Please give us a call for details 917-991-1005
Details

Written by

NJ NEWS Jersey Reporter
SOUTH BRUNSWICK, NJ--A revolutionary new health care center known as "VCare Urgent & Primary Care" that represents a one-stop or one-call facility where patients can easily access a variety of health services inclusive of Urgent Care and Primary Care together! VCare Urgent & Primary Care will hold its Grand Opening Kick-off and Ribbon-Cutting Event:
June 5th 2022 10am to 1:00 pm. Refreshments will be served including bagels and more from Bagel Fresh Grill in North Brunswick!
*Rain Date: Sunday June 26th.
There will be a "Meet and Greet Staff" as well as blood pressure screenings and health information hand-outs and brochures. "Cutting of the Ribbon"
Music, promotional gifts including, pens, notepads, water bottles, reusable shopping tote bags and balloons for everyone!
"We want our patients to experience the friendly, professional atmosphere and seamless registration process. VCare has experience emergency trained providers ready to handle a variety of urgent situations. VCare also coordinates care with multiple specialists and will provide patients with direction on what provider(s) to see based on their urgent care visit. We are very excited to have our Grand Opening" Project Manager, Dr. Sellari stated.
Services are available 8am to 8pm Monday to Friday and 8am to 5pm on weekends and holidays. Their expert staffers are there to answer the phones, offering five-star customer service to all patients and establishments (Vcare is open now). VCare's innovative mini-hospital setting also offers telehealth/telemedicine 24/7, while patients have the option of choosing their own primary care doctor if needed.
Follow-up appointments are available at any of the VCare centers ( "As many as 10 other VCare's are expected to open in coming months." Owner and Entrepreneur Sivakum informed us). At VCare, professionals such emergency room providers, primary care physicians, radiology technologists and onsite laboratory specialist are housed onsite.  All major insurances including at VCare New Jersey Family Care (Medicaid) is accepted. Watch for VCare's North Brunswick facility to open soon as well. Located at 485 Georges Rd. Suite 114 Dayton,  NJ 08810
CALL 888-460-1151