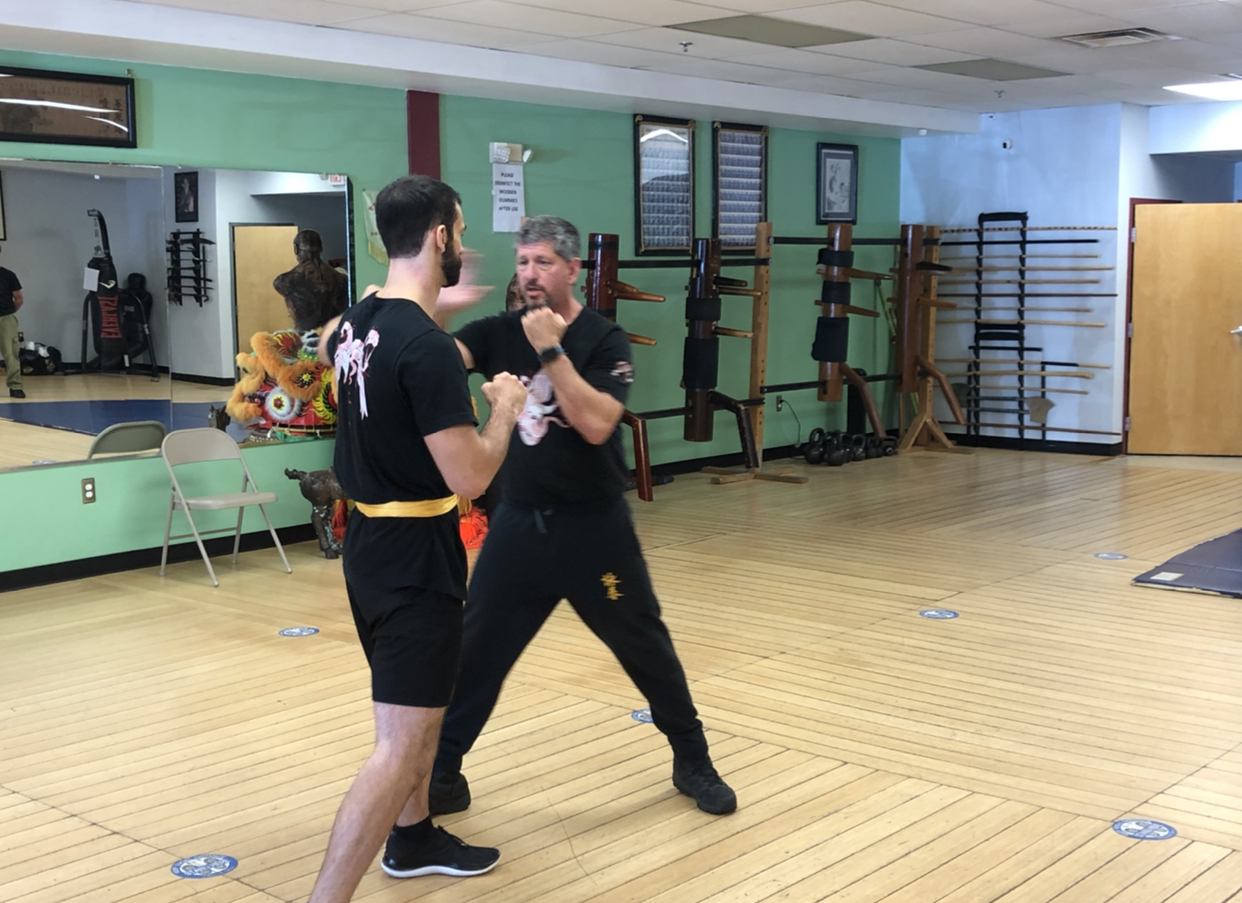 START LEARNING MARTIAL ARTS AND SELF DEFENSE TODAY!!! ONLINE CLASSES AT  www.SOMBLE.com
"Dream Big, Start Small.": The Philosophy of the Master and Owner of the Traditional Wing Chun Kung Fu Academy in Mount Laurel.
 From Student to Master
           MOUNT LAUREL, NJ-- Master Keith Mazza of Traditional Wing Chun Kung Fu started his martial arts journey at the age of four in New York City's Chinatown. "Our next door neighbor was a Kung Fu teacher from China; I used to play with his kids." The Kung Fu teacher commented, reminiscing about his time as a youth in the 60's and 70s.  At a young age, Master Mazza was enthralled by the martial arts and met a lot of resistance when he realized Kung Fu was something he wanted to do as a career. "While some people say it was a fad - I've never stopped training. I've always loved it and it's something I've felt has been in my blood." Mazza made sure to train his skills everyday and fit his practice in between school, work, and home life.
            The festivities, history, and culture of the East were also fascinating to Keith. "I've always been captivated by China, Japan, and Asian Studies," In the 70s and 80s, martial arts schools were more structured and hierarchical. Students would be expected to wash and clean their schools before the teachers would arrive. In lessons, there was no talking back, or questioning authority without severe repercussions. This way of teaching instilled a great amount of discipline and respect for his seniors into Master Mazza. Keith's humility, discipline and dedication to adhering to Chinese culture would earn him the respect of his mentors. Mazza's respect opened many doors for him to private lessons and learning hidden techniques of Kung Fu that were not taught to the general public. Combining discipline, talent, and invaluable knowledge and strategy, Keith Mazza became a renowned martial artist in New York. He was noticed by Grandmaster William Cheung, the inheritor of the Traditional Wing Chun fighting style of Kung Fu. Grandmaster Cheung took Keith under his wing as his first ever closed door student. Keith would tour the world with Grandmaster Cheung by assisting him in seminars, training security, and fighting numerous other martial arts schools and professional fighters.
Elissa Hirsch is seen below Thursday, September 30th with Keith Mazza Jr.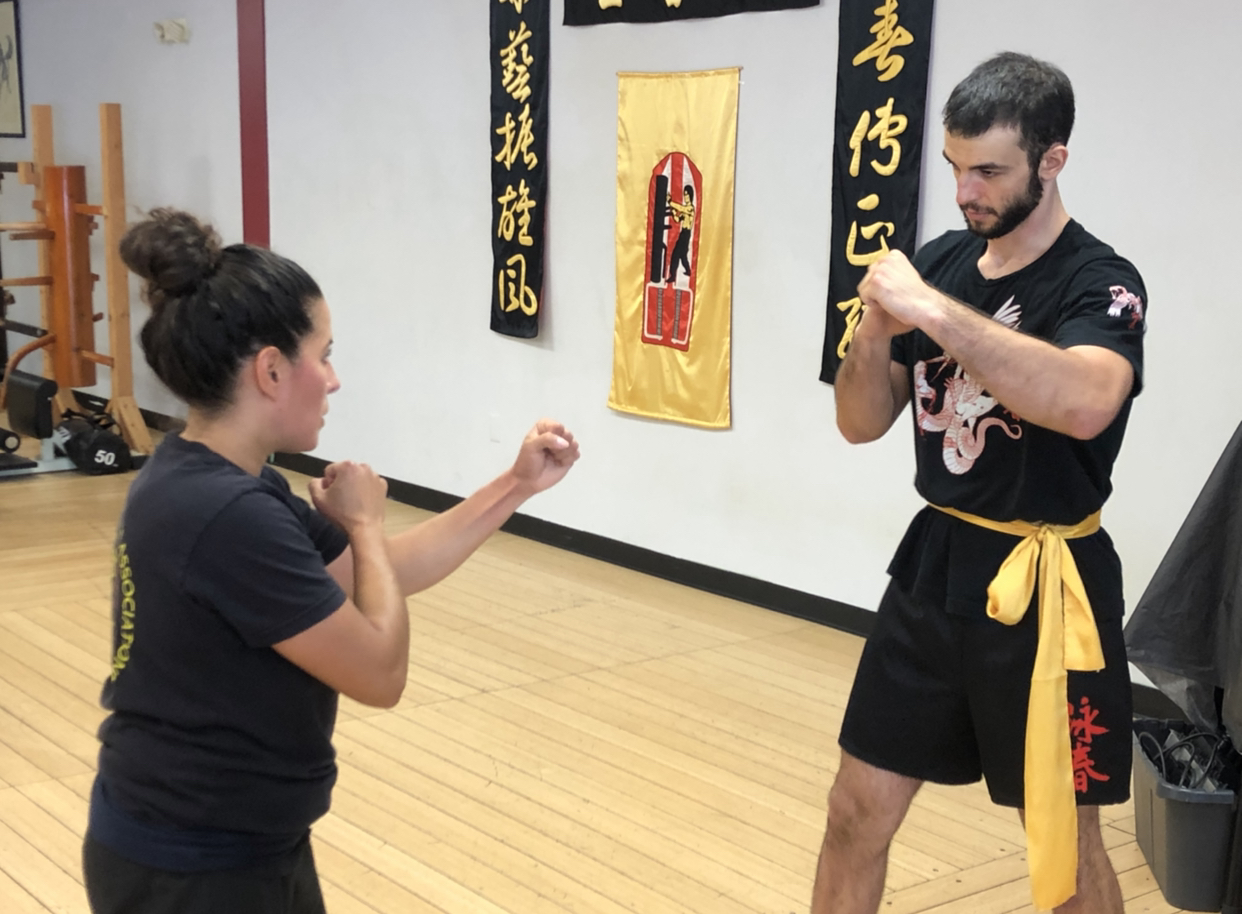 Despite his love for the martial arts, Keith never thought he would actually open up a Kung Fu school of his own. Martial arts studios rarely ever stay afloat by student income. Typically the instructor works another or multiple jobs to keep the school open unless they are extremely well known and respected. Keith knew that in order for Traditional Wing Chun to live on, he and his fellow classmates would have to spread the lessons and philosophy just as their mentor did before them.
            Although the location of the school has changed a couple of times, Master Mazza has had it for over 30 years and it is still thriving. His studio is nearly 5,000 square feet and located in Mount Laurel, New Jersey. It features a modern, safe environment with hardwood floors, state of the art equipment and everything else needed for training martial arts. When asked about designing the school, Master Mazza took a contemporary approach. "I wanted it to be a fun family environment. "Instead of staying in painful structured positions for hours and treating students coldly, Master Mazza is warm with his teaching style. "I've tailored the training toward today," he said "And I let people work at their own pace.".
          At Master Mazza's school, real life application of techniques is stressed over sequences of moves and forms that are aesthetically appealing. He encourages all of his students to ask questions when they see something they are confused by or are concerned about the application of a technique. He truly cares about all of his students and is always willing to take the time to review the basics for people who just started or need a refresher. When referencing how he trains his students, he states, "I hope you never have to defend yourself in life. But god forbid you do - I want to make sure that you can."
            Master Mazza teaches multiple martial arts styles at his school and on Somble. Somble is an online marketplace for fitness content creators. Master Mazza's goal on Somble is to have the largest online martial arts library in the world. He uploads different training programs and content frequently every week from various martial arts styles such Traditional Wing Chun, Kali (A Filipino knife and stick fighting style), Tai Chi, Xing Yi, Ba Gua, and various other martial arts styles can be studied at his school and now online. People from all walks of life come to Master Mazza in search of knowledge in one or many of the facets of health and wellness that he purveys. Whether it be fitness, mental clarity, self-defense, or fight training, Master Mazza's physical and online school is a one stop shop for any avid martial artist.
ONLINE CLASSES AT SOMBLE.com