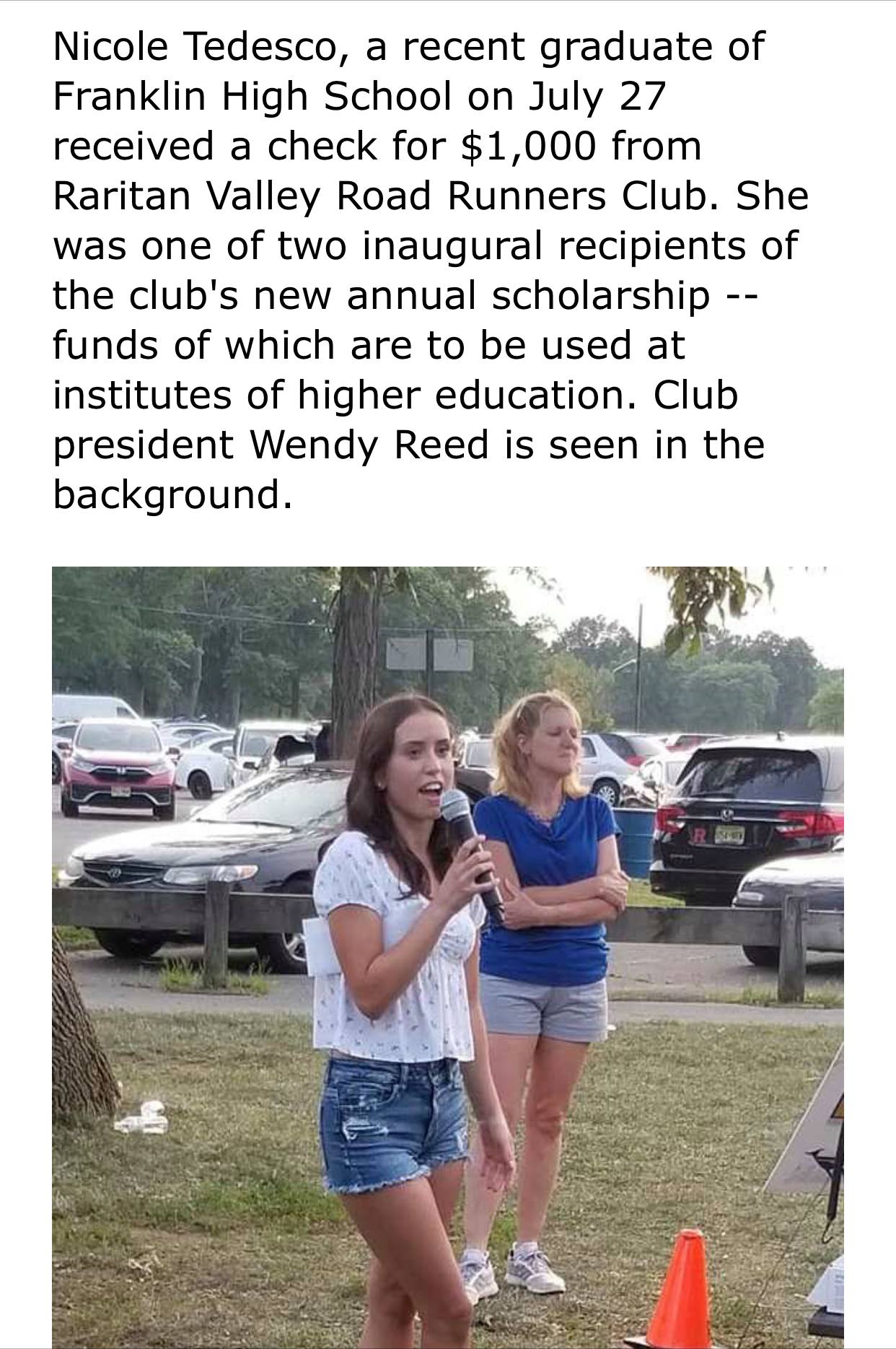 HIGHLAND PARK, NJ--When several months ago I heard Raritan Valley Road Runners (RVRR) member Sonya Slyman use words like "heartwarming" and "soft" to convey how sitting on the club's scholarship program committee made her feel, I thought it was newsworthy.
" 'As I get older, I'm more and more amazed by the younger generation' " she told fellow committee members, which originally included two others, of the candidates' "energy and drive to accomplish things," Slyman said candidly.
All the applicants had something they brought to the table "beyond their persistence in running," she added, perhaps showing a bit of that motherly pride to see "the younger" athletes' overall efforts both in or out of sports, she explained.
"Some really young people are going to lead the charge" for us someday, she added.
And while the names of the first pair of scholarship winners was recently announced, as we neared the Johnson Park Zoo that chili Saturday morning to complete our walk, she repeated that ultimately it may be really hard to make the final decision.
Still, the committee finally did. And club members recently met Sean Castellano, (seen below) one of the first two chosen by Slyman and co-committee member, Beth Alterman, a high school teacher. (Slyman is currently an elementary school teacher and mom.)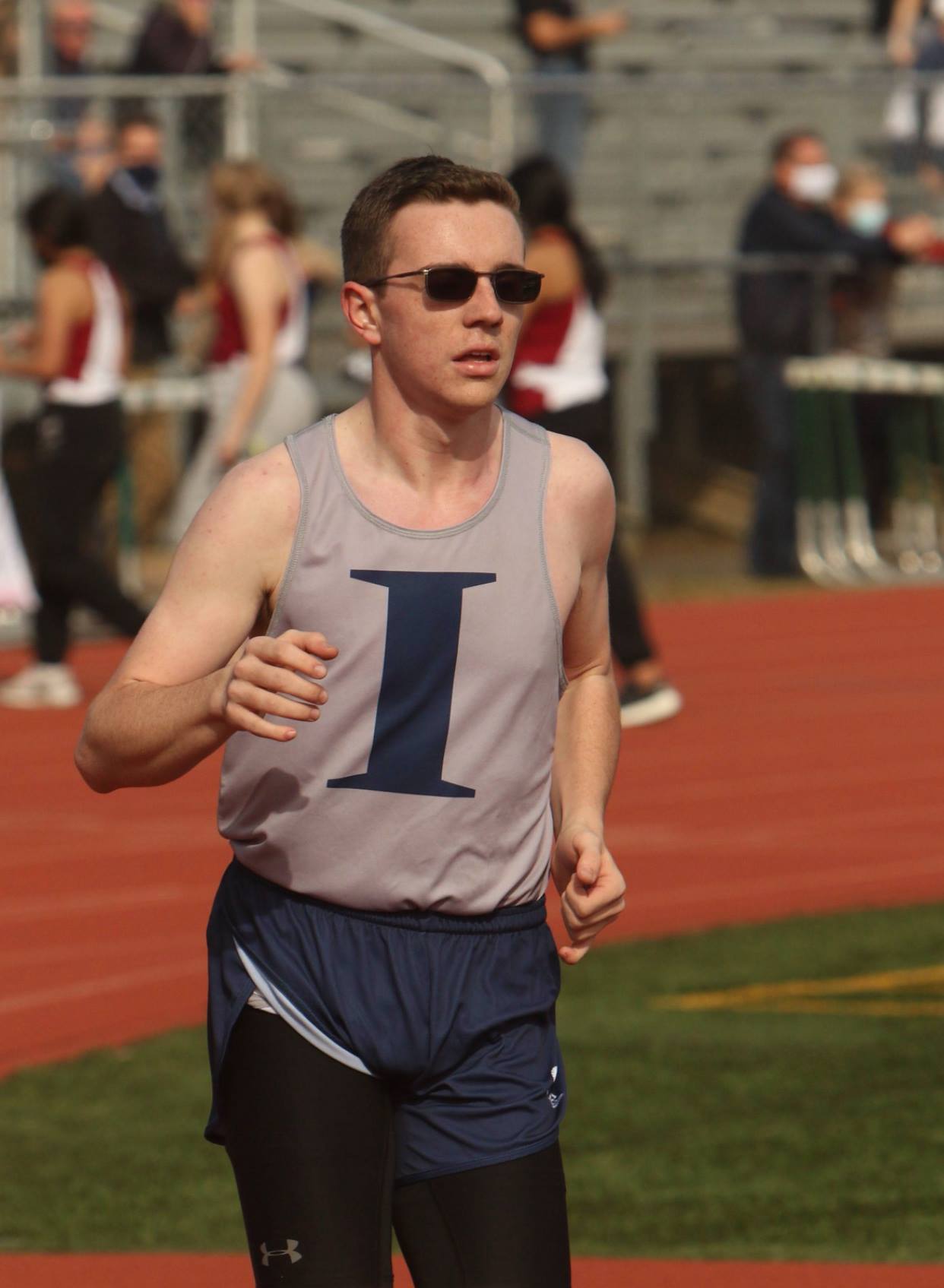 Club president Wendy Reed on June 19 excitedly welcomed members to the third-quarter general membership meeting, held in Grove 5.
Castellano, a senior at Immaculata High School, and his father were present. Since middle school, running has guided the student, who feels he'll run forever, he said. But right now he was set to receive a $1,000 scholarship check.
"So it has been a very long 15-months," Wendy said to a cluster of club members in attendance, citing the previous general membership meeting last year, also held outdoors after the Saturday group run.
She explained that last fall the club had started a scholarship program, which shaped up quickly, thanking club member Ray Petit "for being the innovator and dragging force behind it."
You all voted for it last September, she said, reminding members of the newly launched, but long term initiative. Additionally, she acknowledged Slyman and Alterman for doing so much hard work, finally announcing the two educators' names publicly.
Petit then enthusiastically captured the moment, telling the club it had "finally arrived at [a key] point."
"This is like a culmination of a dream of our running club, right?" he said. "The primary mission of this running club is to promote running and offering a scholarship to the next generation is part of that mission."
While Petit cited the need to select good students who cared about their communities and "wanted to give back," Castellano definitely fits that description. While he hopes to become an environmental engineer someday, he's currently a religious instructor and assistant basketball coach, among other accolades.
"I just wanted to thank Ray and Sonya for this wonderful scholarship -- it's a lot of money and I really appreciate it," he told everyone, noting that he'd be going directly to Rutgers School of Engineering next year.
"So hopefully I'll be around to run with you guys soon, but I wanted to come and say thank you to everyone," said the student. "This is a great club, so thank you guys."
"Running is one of those parts of life that never goes away," added Castellano.
Second Winner
Nicole Tedesco, a graduate of Franklin High School, was the other RVRR, annual, inaugural scholarship fund winner; on July 27 she received her own $1,000 check made payable to Ocean County College, located in Toms River, NJ.
She was recently present at the RVRR 2021 Summer Cross Country Series, held in Donaldson Park, NJ, for the second race of 2021, to collect the award with a smile. RVRR's series traditionally includes four races and the next event is scheduled for August 24th 2021. This year marks the 37th anniversary of the series.
Tedesco joins the freshman class at Ocean County College this fall where she intends to become certified in early childhood education and intends to teach in the Garden State following completion of her certification program.
Tedesco was the captain of both the girl's cross county and indoor track teams while in high school. She noted that running has had a "tremendously positive impact" on everything she does in life.
"I plan to contribute to the running community for a long time and specifically to children by continuing to coach in the future."
By Dave Schatz