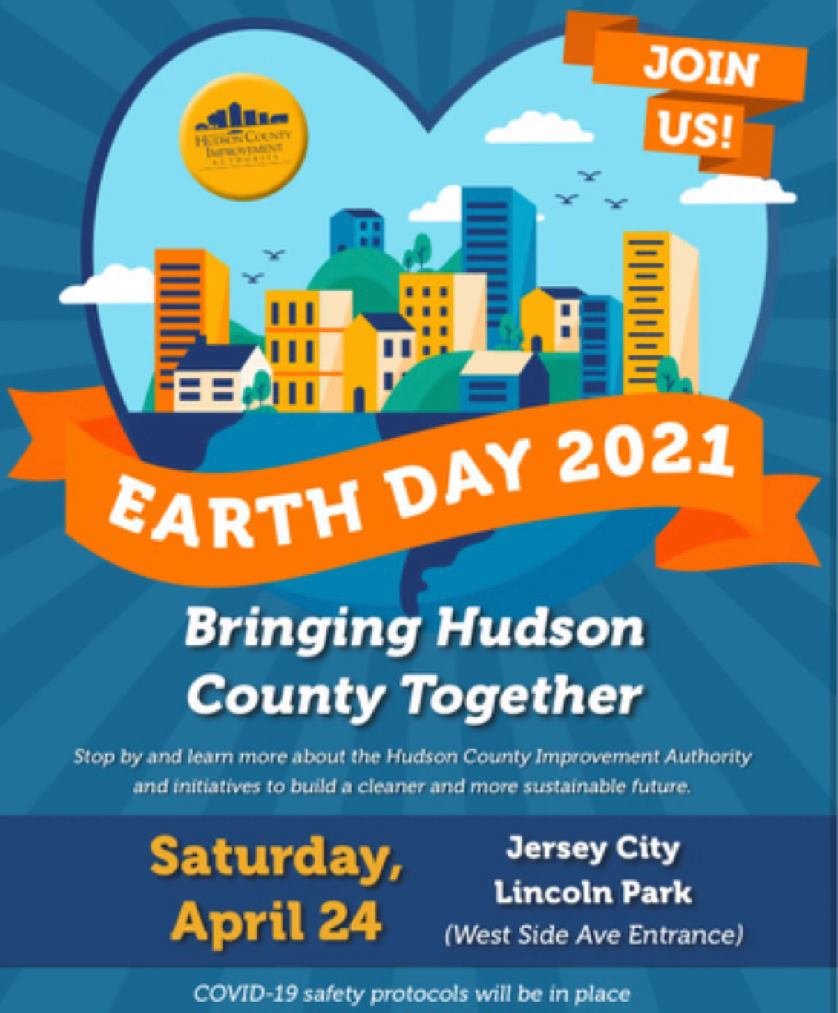 Earth Day Mini Fair 2021
Bringing Hudson County Together
Saturday April 24th
11:00am – 3:00pm
At Jersey City Lincoln Park
West Side Avenue Entrance
JERSEY CITY , NJ --Hudson County Improvement Authority otherwise known as HCIA is having its Earth Day Mini Fair this weekend, April 24th. Stop by to learn more about HCIA and their goals and projects to build a cleaner and more sustainable future for Hudson County residents!
HCIA is hopeful the communities of Hudson County will join together on Earth Day and beyond to promote awareness, education and engagement in the many services and projects Hudson County has to offer its residents. Norman Guerra, who has been the County Executive Director for more than sixteen years, reminds us about the planning and energy division, solar projects, and the building of Hudson County's first public golf course, and more exciting projects on the way! The HCIA also has been participating in the Task Force for Vaccinations.
Amanda Nesheiwat, Deputy Director of Sustainability & Community Outreach at HCIA based in Jersey City, mentioned in an interview with NJ NEWS Jersey.com, "Earth Day is encouraging youth to get involved in their community and understanding the importance of Earth Day but in their own way! Earth Day has always been an important day for the HCIA because it's main mission is to spread awareness about how to protect our planet and be a resource for communities working on achieving their environmental goals."
During the Earth Day Mini Fair Event on Saturday, a wealth of information and activities will be offered to help community members learn more about recycling and composting, shredding and hazardous waste events, and many community programs to assist in making a difference environmentally in our homes as well as out in the community. HCIA's Earth Day event will also provide information and resources regarding county health services and cultural affairs. Ms. Nesheiwat reminds us, "This year's Earth Day theme recognizes the importance of working together, whether it's fighting Covid-19 or fighting climate change! We can solve issues when we work together!"
Normally, the HCIA has always sponsored an Earth Day Fair and 5k Road Race in Liberty State Park but last year the fair had to be cancelled due to Covid-19. Instead for this year's Earth Day, it will be a Mini Fair at the Jersey City Lincoln Park. The HCIA is still looking forward to planning a 5k road race to be held in the fall so stay tuned! The HCIA is always available to answer questions about "going green" from municipalities, residents, and businesses!
Again, join us Saturday April 24th for a successful Earth Day celebration!
Check out the HCIA website and make sure to enjoy a beautiful day outside at Jersey City Lincoln Park on Earth Day!!!!
phone 201-324-6222