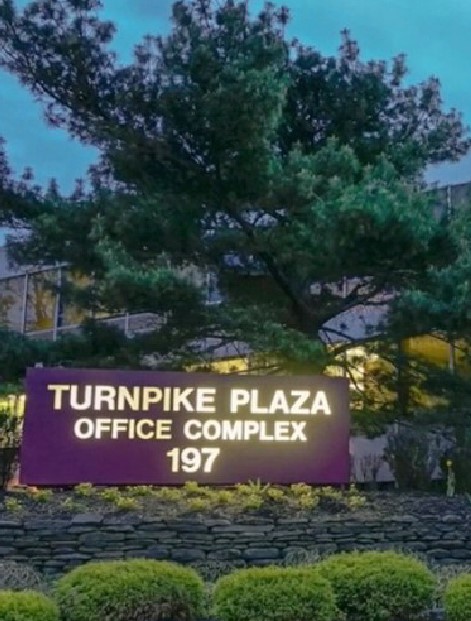 EAST BRUNSWICK, NJ -- While many commercial real estate experts predict downward trends in the office market  due to COVID-19, the owners of Turnpike Plaza, a 100,000 square foot office complex in East Brunswick, NJ are prepared for a surge in demand because of active, safety-first measures and a shift towards shorter commutes.
"Companies are looking for office space focused on their tenants' safety, owned by proactive landlords in locations easily accessible to their executive's suburban homes," said Stuart Davis, Broker owner of Davis Commercial, representing Turnpike Plaza. "Turnpike Plaza offers all that and more."
Business publications like Bloomberg News, are reporting large banks and other corporations are looking toward the suburbs to house employees in spaces that can accommodate the new social distancing guidelines.  This requires much more space for far fewer employees.
                "We're confident the marketplace will appreciate the policies we have implemented and construction we have done to create a safe and inviting workplace in the face of this pandemic," said Paul Donnolo, owner of SilverTree.  "Our hands-on management, professional daily cleaning, ample and easily accessible parking and a host of other amenities have been well-received by our tenants."
                Rob Kessler, president of Offices: Furniture and Design Solutions, and a tenant in Turnpike Plaza building, said he appreciates what the ownership has accomplished. "The owners have always been extremely responsive and supportive to our business," Kessler said.  "In response to Covid-19, the management team has implemented a number of protocols at Turnpike Plaza helping myself and my staff to feel good about coming back to the office."
Conveniently located just off Exit 9 of the NJ turnpike in East Brunswick, Donnolo and his family have always taken a hands-on approach to managing their assets, and have moved quickly to implement policies and add amenities which will keep the tenants safe and productive.
"We are prioritizing personal spaces, implementing behavioral signage and ensuring a safe and clean shared work environment," Donnolo said.  He pointed out that all windowed offices have individually-controlled, through-the-wall HVAC systems that continuously condition fresh outside air while air in interior spaces are conditioned by powerful rooftop units.
                In addition, they have installed no-touch faucets, hand sanitizers throughout the building, a designated COVID-19 workplace coordinator, and they are enforcing social distancing and face coverings in all public spaces.
                "The closely-held family ownership is evident throughout," said Brian Walsh, Broker-Associate at Davis Commercial. "The fact that the family maintains an office in the building assures that all safety measures are being implemented and monitored daily.
                "Despite the slowdown in office leasing, Turnpike Plaza offers amenities that are going to be in high demand in the new normal," Walsh added.  "By providing flexible leases, easily divisible spaces and an abundance of free parking, we will meet the new demands of all size businesses, whether local or national."
                More employees will be driving to work, and most urban areas can't offer parking for their employees.  Other features to protect tenant safety include daily cleaning in all spaces by professional crews wearing protective gear, increased depth, scope and frequency of enhanced cleaning and sanitization, displaying behavioral signs for enhanced safety and convex mirrors to reduce blind spots in the building.
"We've also installed automatic stair tower door openers to reduce touch points, created an outside meeting area on the top floor of the parking deck, and created an individual suite mail exchange," Donnolo added.
Virtual tours are accessible by searching 197 Route 18, or on www.DavisCRE.com or a tour of the premises can be arranged any time Monday through Friday, 9 am to 6 pm, by contacting Brian Walsh at This email address is being protected from spambots. You need JavaScript enabled to view it. or David Douglas Brown 732-646-1305