SOUTH BRUNSWICK, NJ—In an exclusive interview with www.NJnewjersey, we asked GUARANTEED SERVICE'S President, Adam Belitz if he thought an annual furnace or boiler tune-up was necessary before the cold weather arrives.  Adam responded "100% yes, regular maintenance leads to fewer repairs and can prolong the lifespan of your furnace or boiler.  The reverse is also true. Neglecting proper heating system maintenance can reduce its lifespan"
GUARANTEED SERVICE provides comprehensive Heating, Cooling, Plumbing and Indoor Air Quality services to handle all of your homes' needs. GUARANTEED SERVICE is backed by years of industry experience, with fully trained and knowledgeable technicians available for you 24/7/365. GUARANTEED SERVICE serves most of New Jersey including Middlesex County, Monmouth County, Ocean County, Union County, Mercer County and Somerset County.
Adam added, "We have over 30 years of industry experience and employ only the best!  We take great care of our customers and pride ourselves on ultimate customer satisfaction"
The Fall and Winter seasons are quickly approaching, and it's time to be proactive with your homes heating tune up.
Adam Belitz, mentioned "At this point, it's probably been 7 months since you last ran your heating system for any length of time. Can you expect your heater to run at peak efficiency once you need it again every day?  To put this in perspective, let's imagine that you're about to drive your car cross-country. Your car has been sitting in the garage for 7 months, except for the occasional spin around the block. Before starting the long drive, wouldn't you bring your car in for a tune up, an oil change, or even a tire rotation? You'd want to know that your car is running in top condition.  You can think about your furnace or boiler maintenance much the same way. NJ's winter season of cold weather means a long period of heavy use for your heater. Give your heating system a head start by making sure it's ready.  Or, you'll run the risk of having lower operating efficiency or even a break down that would have been preventable."
GUARANTEED SERVICE is reminding us all of the importance of a furnace or boiler tune up for both efficiency and safety.  
Senior HVAC Technician, Joe Rivera mentions "GUARANTEED SERVICE'S technicians can detect small problems and fix them before they become big problems. For that reason alone, you will have saved yourself the higher cost and or bigger hassle of a repair service call down the road."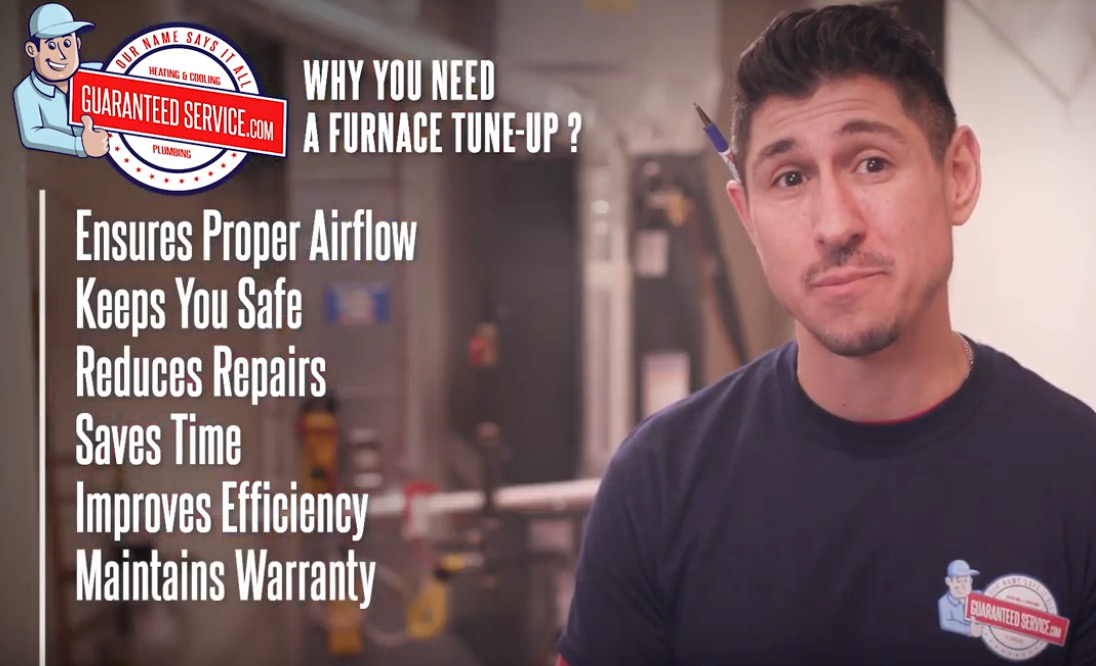 Click Here to Watch Joe Explain Why You Need a Heating Tune Up:
GUARANTEED SERVICE understands and values that your comfort is a priority, especially during the upcoming winter season. Let their team of Professional Technicians provide your home with an annual Tune Up to identify and or solve any issues before they develop.
GUARANTEED SERVICE'S TUNE UP WILL:
Ensure Proper Airflow
Reduce Repairs
Save Time and Money
Improve Energy Efficiency
Maintain Manufacturer's Warranty
Joe added "All of the benefits of a Heating System Tune-Up boil down to keeping YOU and your family safe, maintaining peace of mind, and saving you money"
GUARANTEED SERVICE'S Heating Tune-Up even comes with a NO BREAKDOWN GUARANTEE for the entire Heating Season. If your Heating System breaks down after your tune up, they will give your money back to you, no questions asked. 
GUARANTEED SERVICE'S HEATING TUNE-UP INCLUDES:
Infrared camera inspection of your furnace and heat exchanger
Check blower wheel for cleanliness and balance
Test ignition system for safe and proper venting
Test safety and control circuits for proper operation
Test exhaust system for proper venting
Inspection of blower motor bearings for wear
Measure temperature differences-Supply/Return
Test blower capacitor
Inspect for combustible material around furnace
Brush clean and vacuum burners
Brush clean and vacuum heat exchanger
Test furnace flame for proper burn
Clean existing filters as needed
Measure amperage and voltage of blower motor
Tighten and inspect all electrical wiring
Check for proper combustion air
Test for gas leaks
Inspect inducer assembly for operation and leaks
Lauren Marricco, Office Manager mentioned "Tune ups can't stop all heating problems from happening. Yet, in my 15 years of experience I've found that 90% of heating problems could have been prevented by annual maintenance"
GUARANTEED SERVICE GUARANTEES: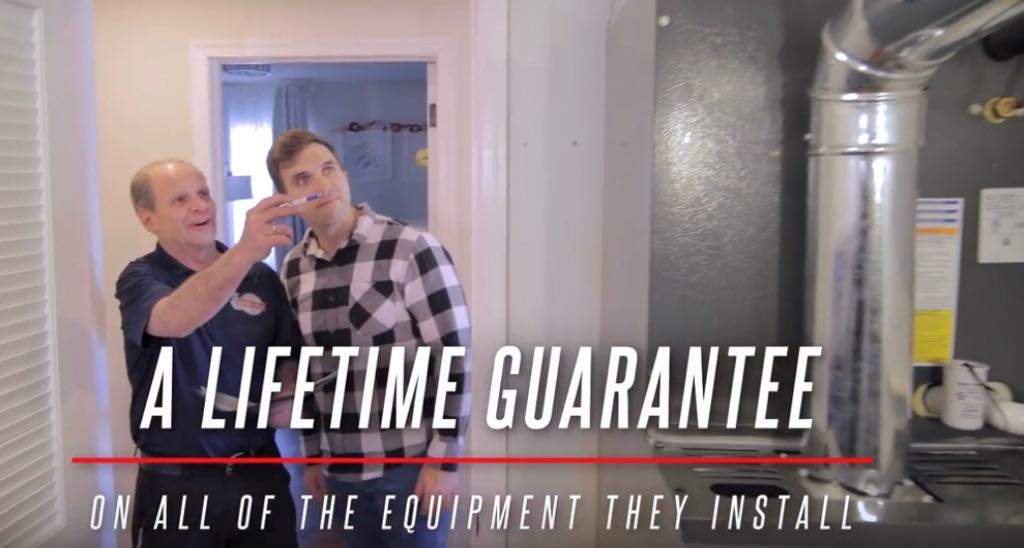 Click Here to See What Makes GUARANTEED SERVICE So Special
Lifetime Equipment Guarantee
Honest and Upfront Pricing Guarantee
100% Satisfaction Guarantee
Same-Day Service Guarantee
On Time or It's Free Guarantee
Fixed Right Guarantee
Call 732-305-4500 to schedule your Heating Tune Up for only $77.